Due to COVID-19 and the global pandemic, MIT App Inventor had to cancel its annual Summit in August, 2020 in Cambridge, MA, where app inventors from around the world converge on the MIT campus to share and learn from each other. In place of the Summit, the App Inventor team decided to run its first virtual hackathon, where individuals and teams from around the globe would work for one week creating apps to address a set of global issues.
The App Inventor team has worked in the past with the Boston chapter of Black Girls Code to run in-person workshops, where young girls visit the MIT campus and learn how to make mobile apps. The App Inventor team were eager to include Black Girls Code members in the hackathon, but realized that for many, a hackathon would be a new and intimidating event. To encourage and support them, App Inventor offered two sets of 3 day virtual workshops to introduce the girls to the App Inventor tool, and to teach them how to make mobile apps. The goals was also to explain what a hackathon is, and to encourage the girls to take on the challenge and participate.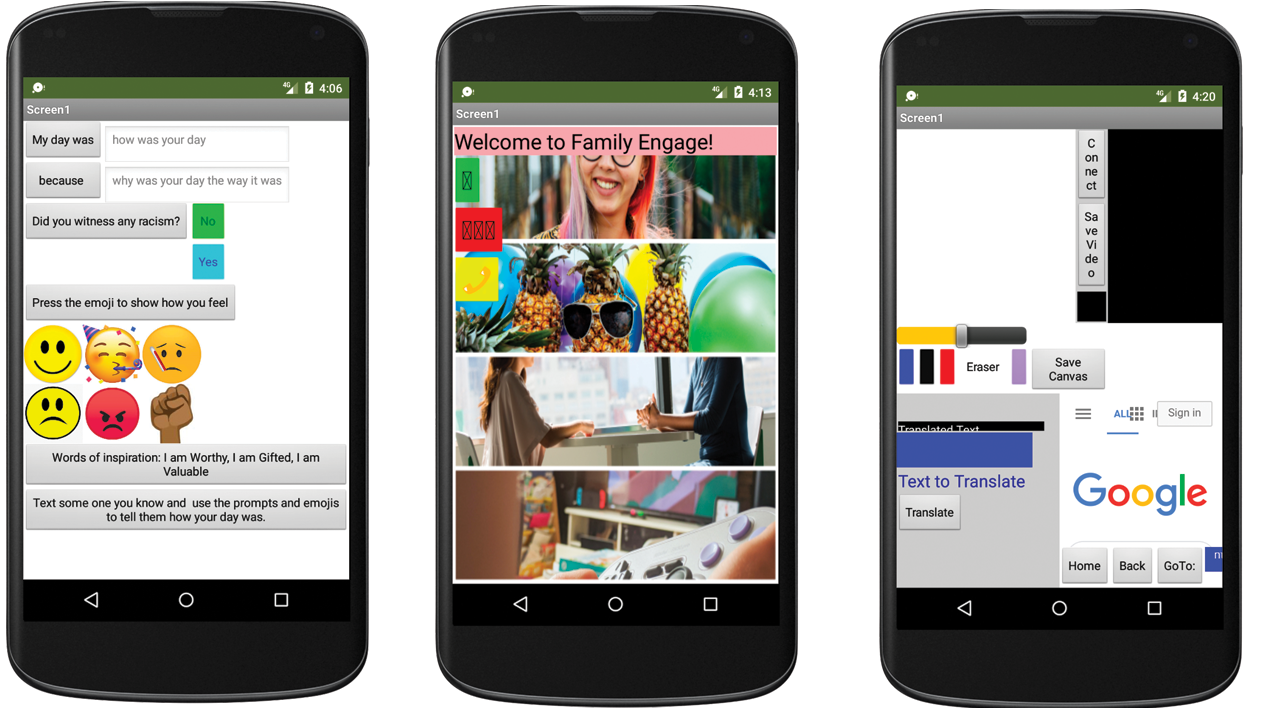 There were over 60 registrants for the 3 day workshops, which ran the week of July 12. Parents and guardians were encouraged to do the workshop with their daughters. Participants ranged in age from 8 to 63 (a grandmother!) Since the girls came from around the US, morning and afternoon sessions were offered to accommodate their schedules. Six MIT students, along with App Inventor staff members, presented several tutorial sessions over Zoom, where the girls learned some of the basic App Inventor components, how to lay them out in the design of an app, and how to code them. MIT student Lilian Wang commented, " It was truly amazing to see how engaged these girls were throughout each day. At the end, some of them wanted to show everyone their finished apps, and their excitement and creativity was heart-warming." According to Murielle Dunand, another MIT student presenter, "Most of them were new coders, and it was just amazing to see how they progressed through the three days, getting more confident and proficient at each stage. By the end, many of the students were expanding the current app content and coding their own extensions to the given curriculum."
During the last day of the workshop, the App Inventor staff encouraged participants to sign up for the hackathon, which was scheduled for the following week. Sixteen workshop participants were game to give it a try. Some of the girls decided to work on their own, some teamed up with other family members, and others formed teams within the BGC larger group. MIT students were partnered with BGC individuals and teams to act as mentors throughout the hackathon week, checking in on their progress, advising, and providing technical help. Mentors met virtually with groups and connected through email to aid in debugging and answer any questions the teams had. All teams were successful in coming up with an idea for an app and building an app to match one of the hackathon themes. As Murielle commented, "Enabling these driven girls to make apps was an inspiring experience". One group's app was a trivia/scavenger hunt game to keep people from being bored during quarantine. Another group combined a taking notes feature with other features such as a WebViewer to create an interface for remote learning. One 10 year old girl, working on her own combined the topics of mental health and racial justice to make a new app about helping children of color deal with the mental wear of daily racism.
The App Inventor team found that the intensive workshop coupled with mentoring support throughout the hackathon was a successful combination. This model is something that the team will continue to provide in the future, whether the workshops/hackathons need to be virtual, or hopefully, can be in-person once again.