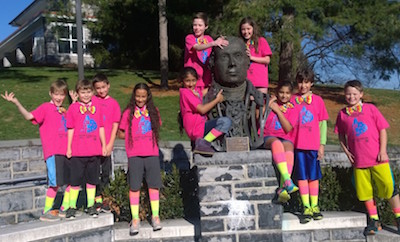 Last week I had the privilege of meeting, via Skype, the members of the Superior Deca Squad from Herndon, VA. They were preparing to present their project at the Virginia State Meet of
FIRST (for the Inspiration and Recognition of Science & Technology) Lego League (FLL)
. These ten eager and innovative 5th graders from Oak Hill Elementary School in Herndon were very poised and enthusiastic as they explained to me their vision for Cam Can, a system of recycling bins that would scan, automatically sort, weight, drain, and compact recycled items. Their unique system would also reward users with game tokens and gift cards, to entice long term use, and increase recycling trash from 33% to 67% in their county. Another piece of their project was a prototype for an app made with App Inventor that would notify the user of nearby recycling bins so they could find a place to recycle. In addition, the app would allow the user to scan a QR code to earn credits for recycling. Each member of the team spoke about their part in the project. Some worked on programming their robot, others the App Inventor app, while others focused on the presentation and marketing materials. All members of the team were involved in research on the topic of trash and recycling. The team visited their county waste management facility, a security data destruction company, and a hospital to see how each of those organization deal with trash. Close to home, they met with the head of their school cafeteria to talk trash. As a result of their meeting, the simple solution of relocation of the recycling bin in the cafeteria improved the percentage of recycling that took place at the school. They competed on December 5 at the Virginia State Meet at James Madison University, along with 108 other teams. Their research scores and performance were Exemplary, and they were in the top performers. As part of FLL, they also competed in:
Teamwork judging; learning that TEAM stands for teachable, energizer, achiever, & mission focused; and used gracious professionalism (respect and kindness to enhance team communication and relating to others).
Technical and Robot judging: They designed a robot and programmed mission runs, using EV3 programming, to run their robot through an obstacle course designed by FLL.
From my interaction with these students, I definitely saw their collaboration and teamwork. Each team member participated, was respectful of each other, and was excited about their project. It was a pleasure to see such enthusiasm for solving a real world problem. The FIRST LEGO League
TRASH TREK℠ Challenge
involved more than 233,000 children ages 9 to 16 from over 80 countries to explore the fascinating world of trash and to design solutions for it.