MOSTEC
(MIT Online Science, Technology, and Engineering Community) is a six-month program for eligible rising seniors offered through the MIT Office of Engineering Outreach Programs. It combines online curriculum with a week long on-site project-based workshop at MIT. One of the tracts offered was mobile app development with App Inventor! After 3 weeks of learning App Inventor online and one week of collaborative group work on campus, MOTSEC students presented their original app designs to an auditorium full of science and engineering enthusiasts. The results were quite impressive! One of my favorites was created by Foli Amaizo who was tired of his friends at school having bad attitudes. He didn't want the negativity to get contagious, so he decided to built an app called
Positivity
. Users can select from an array of positive messages to send to friends who may need a pick-me-up. Users can even set the timer to send texts on regular intervals.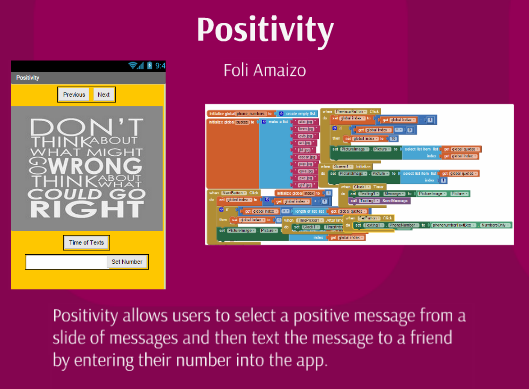 Another cool app called
Movie Crew
was made by a budding indie filmmaker who sought to provide resources for film sets. He said he has had trouble finding people willing to work as crew, so he wanted to create a database to offer available work opportunities. Next time you need a grip, gaffer, or an actor, check out Movie Crew.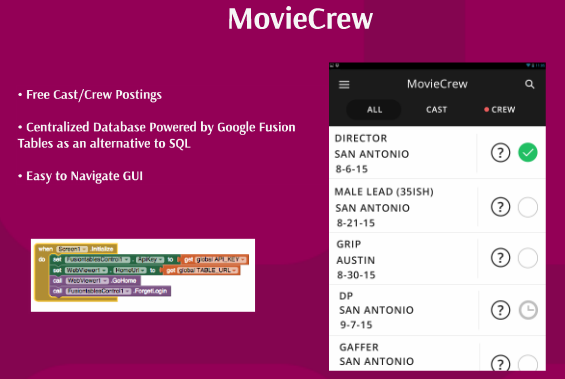 Get Fit
is an app for busy people who have so much going on, they have trouble setting aside time to workout. This app provides four options: Cardio, Core, Lower Body and Stretching and then gives users a 5 minute intense workout program. Of course, users can input longer sessions as well. The Cardio option even has a Find Your Location button in case users are running on a new trail and get lost.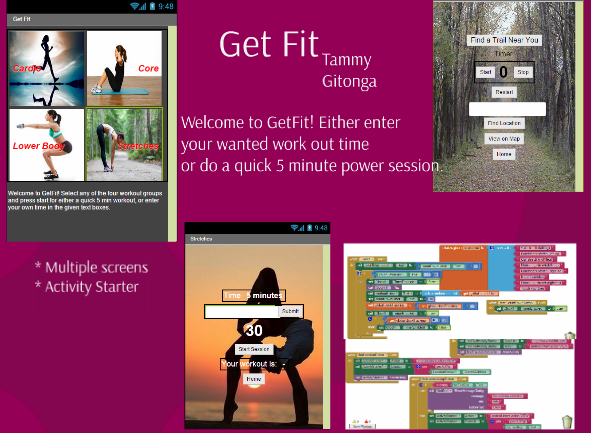 A savvy student decided to help others become financially responsible by creating an app to track saving money.
My Piggy Bank
enables users to set a savings goal and see their progress. This tool is multi-functional and can encourage users to be more accountable and aware of their finances.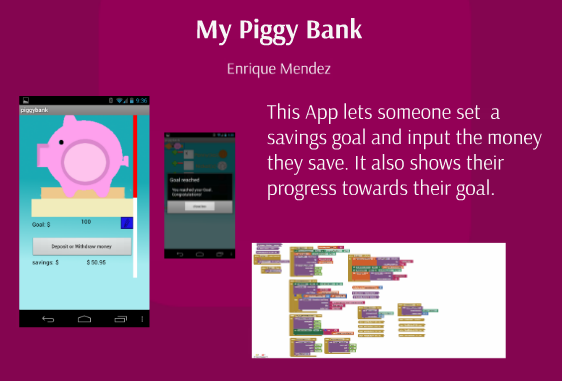 Eventor
is a cool app that helps to publicize events. This could be used for any kind of gathering a community service event, reunion, party, or study group to name a few. It is viewable as an app or online and shows listings of upcoming events. It also has an option where users can enter a friend's name and it will send the friend the URL of the Google Fusion Table where information can be entered into the database.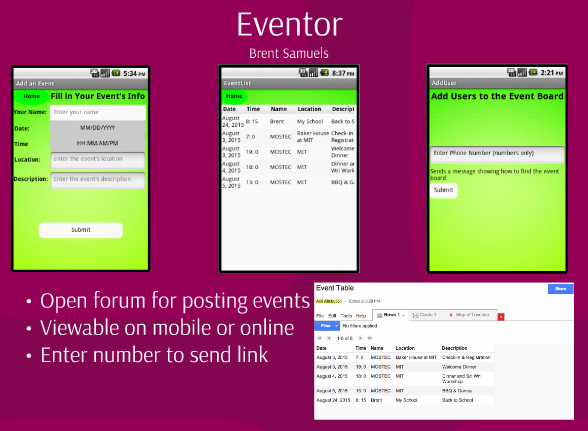 If you are stressed out, but don't feel like using your Get Fit app to ease tension, you can always use
Got 99 Problems: The Stress Reliever
. Users can shake their mobile device to see any of one of four games at random. The Test game allows users to get a 100% on a test simply by tapping on their screen. The Deadlines game challenges users to get an icon to a ball on the opposite side of the screen without touching any lines. Another game provides a pencil and blank slate, erasing the background reveals a positive message. And lastly, users can take a photo of whatever is in front of them, the image appears as the app background and then users can draw on it. Seems like the perfect way to diffuse stress!