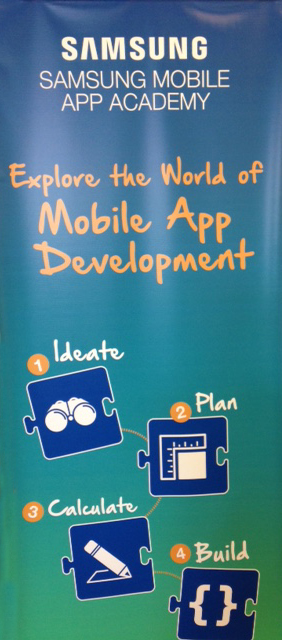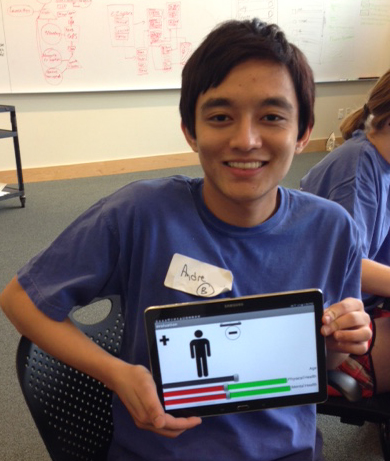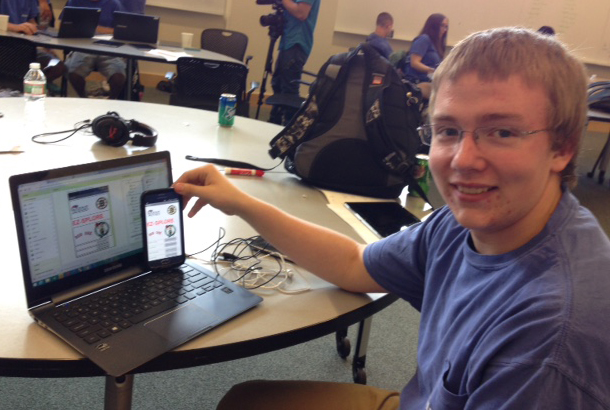 Mid-July, 2015, 60 local high school students converged upon MIT Sloan Business School to partake in the week long, free
Samsung Mobile App Academy
. Since the curriculum utilized MIT App Inventor to create mobile apps, no prior coding experience was required! The application process was based on GPA, AP course work and an interest in mobile app technology. Students learned about app design through instructors, self-paced online curriculum, group work and guest speakers. At the end of the week, they collaborated in teams to create a Boston tourism app using the design-thinking process:
Ideate > Plan > Calculate > Build
. Then, they pitched their apps designs to panels of tech experts. Just because the week is over, doesn't mean their app building is! App Academy attendees have the opportunity to submit their app ideas to win $20,000 in scholarships. Submissions are due in October and the App Inventor team is looking forward to seeing the winning designs!
Noa (a rising senior pictured upper left) had this to say about her app academy experience: "Surrounded by so many talented programmers and students at the academy, it was easy to feel like my skills didn't really fit in. I had no experience with the fundamental basics of computer science, and I had never taken apart video games as a child and used the parts to build a 3D printer. But the reality that had begun to take shape by the end of my experience at the app academy after spending a week transforming a vague idea into a tangible application that could impact the lives of people outside of my community using the App Inventor tools broadcasted a whole new theory for me about what technology meant. It became very clear that there is a very valuable place for people with less computer science based backgrounds in the world of technology and innovation. It is truly a remarkable thing that someone who has never before laid eyes on a programming language can build a product equally as brilliant and sophisticated as an application built by a person fluent in 3 programming languages. This is what MIT App Inventor and the app academy has allowed me to do. It has allowed me to see the strength that lies in pure innovation and the value that lies in having a revolutionary idea. I hope that many more students have the opportunity to discover that we all have the capacity to contribute to the world of technology and innovation. App Inventor has indeed taught me that there is not a day to waste on simply being a static consumer of the digital revolution."