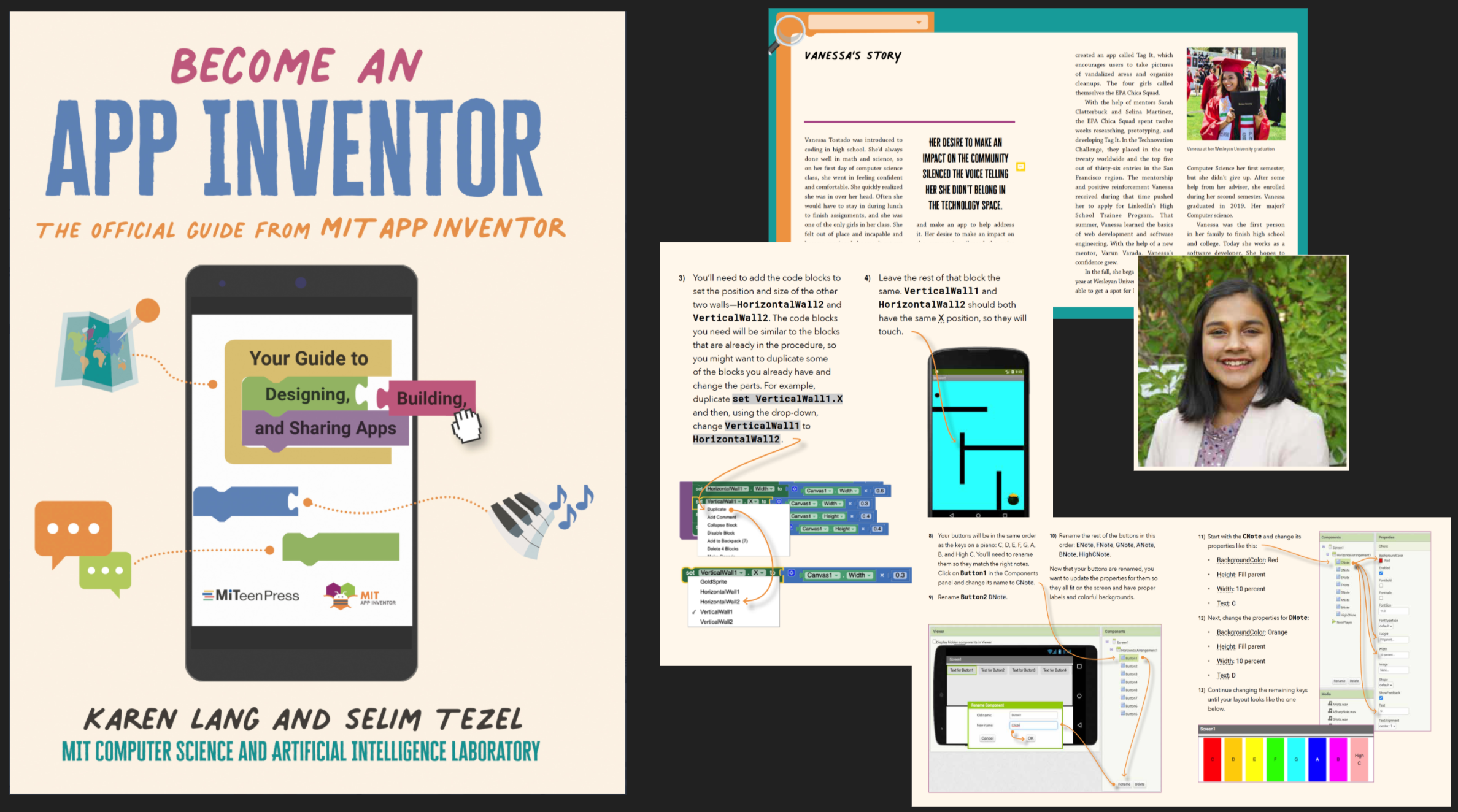 Book Websites:
Reviews
A clear, empowering way to learn app-making. —Kirkus Reviews
This step-by-step guide is a valuable aide. . . A go-to resource for passionate creators who are ready to actively invent and design. —Booklist
This book is currently blowing my teen coders away and being poured through by my husband, kids and their friends. Absolutely an outstanding and the most accessible book on this subject. —Jesica Sweedler DeHart, Neill Public Library, Pullman Washington
Videos:
Blogs:
Book Updates:
Please note that in Chapter 3, the YandexTranslate component on the App Inventor website has been replaced by the Translator component, and all YandexTranslate1 blocks have become Translator1 blocks. Amazon, instead of Yandex, is now the service that hosts the translator. This change affects pages 59–71.
Author bios:
KAREN LANG


Karen has spent much of her career as an educator, focused on Computer Science education. She taught in the US and around the world – at high schools in New Hampshire, Vermont, Massachusetts, and in England. She also acted as technology coordinator at American international schools in Venezuela and Hungary. She taught Computer Science for eleven years at the Massachusetts Academy of Math and Science in Worcester, MA, USA where her focus always was to expose students to the possibilities of becoming technological innovators. Karen also worked as the Education and Business Development Manager for MIT App Inventor for five years, where she advocated for the use of App Inventor as a tool to enable people, young and old, to become active creators of technology. She currently develops curriculum for Technovation Girls, to help girls around the globe solve problems in their communities using technology.

SELIM TEZEL


Selim is the Education Team Lead at the App Inventor project. He joined the team in 2018 as a curriculum developer. He is a former K-12 mathematics teacher who has taught overseas and in the US for 22 years, exploring intersections of technology and playful constructionist pedagogies in the classroom. Recently he worked on the Beauty and joy of Computing project as a curriculum designer at EDC (Education Development Center) which in collaboration with UC Berkeley and NYC Public Schools aims to make computer science accessible and enjoyable for a diverse population of students. When not working Selim enjoys playwriting and creating visual arts.