Ever wonder where something went, and realized that you had loaned it to someone the week before? Tired of keeping track of the money you owe your friends? I.O.U, an Android app created by high school girls using App Inventor, allows you to keep track of items and money that you have loaned and borrowed, an it is now available for free on
Google Play
.
I.O.U was created by the Sparkling APPles team from Mountain View, California as part of the Technovation Challenge. The Sparkling APPles, Diana Gong, Evaline Tsai, Rachel Shaffer, Shalmali Joshi, and Sravya Patnala won Technovation Challenges 2011 National Pitch Competition. The team was supported by their mentor, Christine Moon the Head of Asia Pacific Android Partnerships at Google and their teaching assistant Diane Kreil, a student at Stanford. Since most of the girls have no experience coding, they build their apps using App Inventor. Technovation chose App Inventor because the blocks-based interface is accessible, open-source, and has a low walls, high ceiling approach, and it works well for the program. "Because we needed to put together an app in such a short amount of time, App Inventor was a great program since it allowed us to fully understand programming concepts without requiring us to learn a programming language. With its intuitive functions and user interface, our group successfully created an app in under ten weeks!" stated Diana Gong.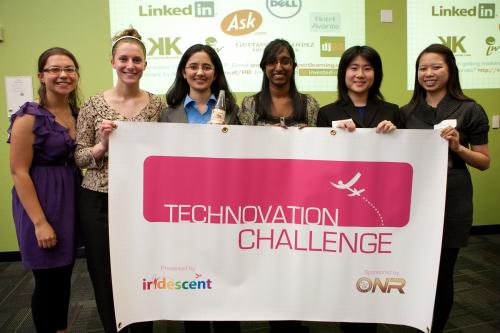 About Technovation Challenge
Girls and women are avid users of technology. Technovations goal is to inspire and support them to become creators and inventors of technology. Through the
Technovation Challenge
, we provide powerful learning experiences that give participants the ability to bring their unique perspectives to existing problems. Over the course of twelve weeks, girls work with professional women in technology to develop mobile phone applications to solve a personally relevant problem. At the end of the twelve weeks, the teams pitch their app prototypes, market ideas, and business plans to a panel of judges for funding to have their app professionally developed.