Last June 21-July 10, Peninsula Bridge partnered with Amazon Web Services and IDEO to offer a three-week long Computer Science BootCamp for 35 Peninsula Bridge high school students. For many this was their first computer science experience. Students learned about the basics of coding and logical thinking as well as how to use the "design thinking approach to conceive a viable, original app. This year had a twist: students also designed an Internet of Things prototype to go with the app.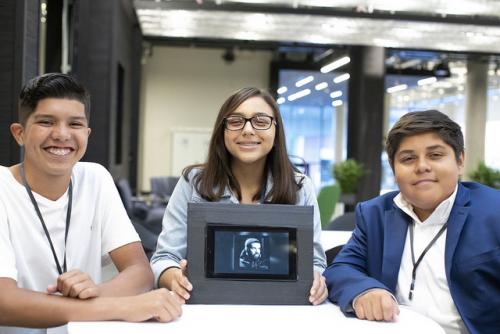 Five teams of students brainstormed original app ideas. The teams then built their apps using MITs AppInventor with the intention of solving real world problems and then gave 90-second pitch presentations to a panel of VIP judges from different tech companies. The workshop was led and designed by Brian Liberman, a 7th grade San Francisco public school social studies teacher, who teaches the Peninsula Bridge computer science elective, with the help of student TAs, who took the BootCamp the year before, and engineers from Amazon Web Services who volunteered their time to support the teams. ?On July 17th, the student teams pitched their apps to a panel of judges at the 2nd Annual Student App Showcase: 'Shark Tank Style' event at Amazon Web Services in East Palo Alto. The winning team, LOKT Company, was awarded college scholarships courtesy of Amazon for their app Style It Out that helps users organize and prioritize their wardrobe.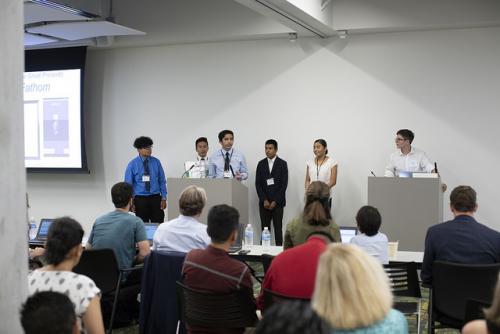 Showcase Format
Judges asked questions following each 90-second pitch and then rated the teams pitch using an online rubric (see rubric below). Based on the ratings, the top three teams demonstrated their apps (on a large screen) to the judges and audience. Judges collectively deliberated and picked a winner. The students on the winning team were each awarded a $500 college scholarship.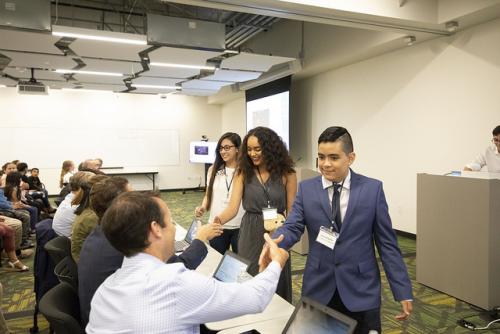 Rubric rating for student pitches (scale of 1-10)
Teams were evaluated on: -
Greeting
: Clearly identify the company name, self, and grade. -
Need
: Explain the problem facing your customers. Who are your competitors? Why do they fall short? -
Solution
: Explain how your app would solve this problem. -
Business Model
: How do you make money? (Sell to a wholesaler? Free? License and receive royalties? Other?) -
Delivery
: Natural, enthusiastic, and speech with a good flow.
Judges
The judges are leaders in venture capital, tech and community service including:??1 - Mike Andersen, Senior Interaction Designer, IDEO?2 - Aarti Chandna, Impact Investor & Strategy Consultant, Peninsula Bridge Board Member 3 - Steve Herrod, Managing Director, General Catalyst Partners 4 -Edo Liberty, Director of Applied Science, Amazon Web Services 5 - Anjali Pichai 6 - David Schmaier, CEO & Founder, Vlocity 7 - Jeff Schmidt, Director of Integrated Communications, Lockheed Martin 8 - Chris Tonas, VP of Development, Oracle??Peninsula Bridge is a college access and completion nonprofit based in Palo Alto supporting 650 low-income Peninsula students from 5th grade through college graduation. Learn more at
www.peninsulabridge.org
.