Leo Burd and I have recovered from jetlag and are ready to report on our trip to the GSMA Mobile World Congress in Barcelona February 25-28. We went to MWC to represent the MIT Center for Mobile Learning as part of the unX network, a partnership with CSEV, UNED, Telefnica, and Banco Santander that is creating the first learning and entrepreneurship portal for Latin America. The MWC conference was HUGE! Over 70,000 people attended from all over the world, and representing every branch of industry related to mobile devices. We found our niche in the Spain Pavilion, where many people stopped to hear about unX and App Inventor. Leo Burd was part of a presentation about the success of unX, along with several other key players including Mr. Victor Calvo-Sotelo, the Spanish Secretary of State for Telecommunications, and Mr. Cesar Alierta, President of Telefnica Group. During the presentation, we officially announced that unX was now available in both Portuguese and Spanish for anyone to join in.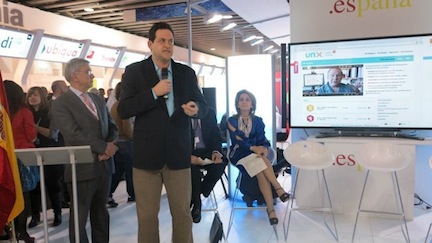 While the presentation was going on in the Spanish pavilion, I (Shaileen Pokress) was busy giving a talk to a packed room as part of the mEducation panel. There was overwhelming interest in the topic of mobile technology for education, as evidenced by the extremely long line outside the door (most were turned away due to lack of space.) I'm certain that MWC will provide a larger space at next year's conference for this topic.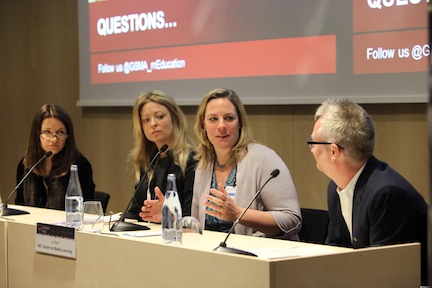 The presenters and panelists at the mEducation session were:
Graham Brown-Martin, Education Design Labs
Peggy Johnson, Qualcomm
George Held, Etisalat
Florence Gaudry-Perkins, Alcatel-Lucent
Vanessa Lucio, Telefonica Learning Services
Shaileen Pokress,MIT Center for Mobile Learning
We each had a different take on what "mobile education" means, and how mobile technologies can change the landscape of schooling. While most of the points made by my co-presenters had to do with educational content for mobile devices, I made sure to emphasize that the Center for Mobile Learning aims to provide ways for students to create their own mobile learning tools and experiences. Well, this post has gotten longer than I'd intended. Up next... SIGCSE 2013. App Inventor was well represented, and our team made it home despite the snow storm! Stay tuned...