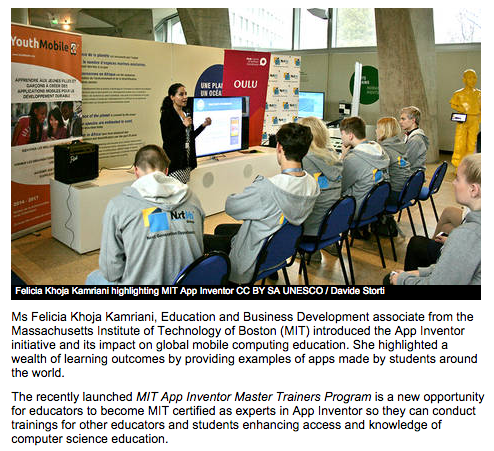 At the end of October, I traveled to Paris, France for the
9th UNESCO Youth Forum conference
. This years theme, Young Global Citizens for a Sustainable Planet, united over 500 young people, ages 18-25, from 159 member states who are transforming their communities. Participants were nominated by their national commission offices or local organizations and recognized as individuals whose leadership, efforts and voices are contributing to positively impacting global citizenship in their region. Conclusions and recommendations from participants of the Youth Forum can be found
here
(English version). I spoke at the workshop:
YouthMobile- Building Your Own Mobile Apps For Sustainable Development
. The YouthMobile project aim is to empower at least 25,000 young people (particularly young women) to resolve issues related to sustainable development with digital solutions. By learning to code, this demographic can develop, promote, and sell socially impactful mobile apps that directly address challenging local issues that they themselves have identified. I had the privilege of meeting some of these youth leaders and hearing their inspiring stories of mobile technology projects launched in Korea, India, Columbia and Africa. Many determined to carry-on despite obstacles like too few devices or spotty WiFi.
Grace Ihejiamaizu,
a youth educator who lives in Nigeria, was the Technovation mentor to the 2015 Technovation Challenge winning team that created Discardious, a waste disposal app made with MIT App Inventor. We think the platform is very easy to use, the puzzle pieces make it easy to teach young people. Its very intuitive; it allows you to feel like an expert. App Inventor has had a lot of impact in Africa and we want to scale it up to reach people who are not yet coding.
Despite gallant efforts by young trailblazers such as Grace, the fact remains that only 20% of people in mobile computing (or computer science education/fields) are female. (The gender gap also exists with users of App Inventor.) This is a global problem in need of global solutions. In an effort to transform the digital divide into digital inclusion, UNESCO launched the project
Searching for Martha
, during the YouthMobile conference.
Martha Chumo
is a 21-year-old self-taught Kenyan coder who founded the Nairobi Developer School, the first Kenyan hacker school when she was 19. Through tech meet-ups, hackathons and workshops all over Africa, she has taught over 1000 people to program mobile apps with MIT App Inventor. The goal is to find 1000 Marthas so that each one can in turn empower 1000 young women with programming skills by teaching them MIT App Inventor.
Thus, the Searching for Martha projects seeks to:
Identify 1000 young African women entrepreneurs currently skilled in mobile computing education
Provide them with capital and arm them with business, leadership and entrepreneurial skills
Enlist their expertise to train 1000 young women in mobile app development
The goal
: to empower 1 million young African women in mobile app development by 2017
Immediately prior to the Youth Forum conference, the Rwanda ICT Chamber hosted an initial brainstorming workshop at the 2015 Transform Africa Summit. A collaborative endeavor by UNESCO field offices in South Sudan, Kenya, Ethiopia, and Rwanda and co-facilitated by the Her2Voice NGO (Rwanda), the two-day workshop gathered 20 female entrepreneurs in mobile programming ((including Grace Ihejiamaizu) from regions all over Africa to identify ways to sustain and expand female entrepreneur role models, leadership and expertise. More information on the 9th UNESCO Youth Forum can be found
here
.