For the second year in a row, a Verizon Innovative App Challenge Best-in-Nation student team was invited to the White House Science Fair to demonstrate their mobile app development done with MIT App Inventor. This year, an all-girl high school team from Kennewick, Washington created Safe & Sound, a tool to help teens struggling with depression and stress. The app enables teens to seek help quickly and confidentially, and learn positive ways to cope with their emotions. The students were inspired to help others after a recent local school tragedy sparked conversations about anxiety and depression.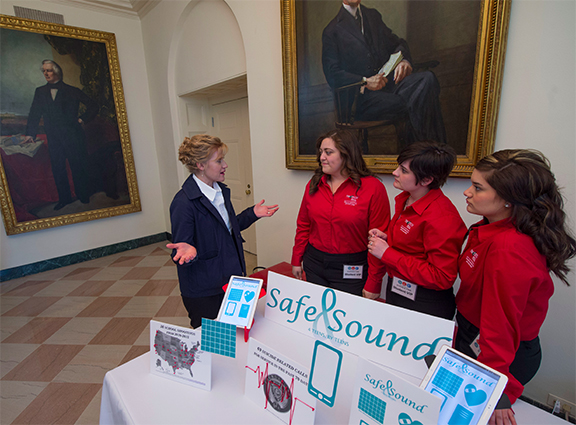 Along with the White House, their visit also included a tour of Capitol Hill and in-person meetings with US Representative Dan Newhouse and Senator Patty Murray. The Safe & Sound team also participated in interviews with national media, including National Public Radio and NBC.com. The team from MIT App Inventor expresses our sincere congratulations to the winning team and eagerly await the completed app, which will be presented in June 2015 at the
national TSA conference
. Also in June, the app will be available as a free download in both English and Spanish on the Google Play Store. Safe & Sound represents the social impact of mobile app development by young people seeking to help their community and peers.
Get more information >