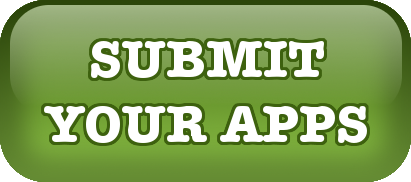 Submit your app here by the end of July! Winners will be announced in August.

Please note: As of July 2018 our primary App of the Month award categories will be Young Inventors (12 and under), Teen Inventors (13-19), and Adult Inventors (20+).
Congratulations to July's Young Inventor!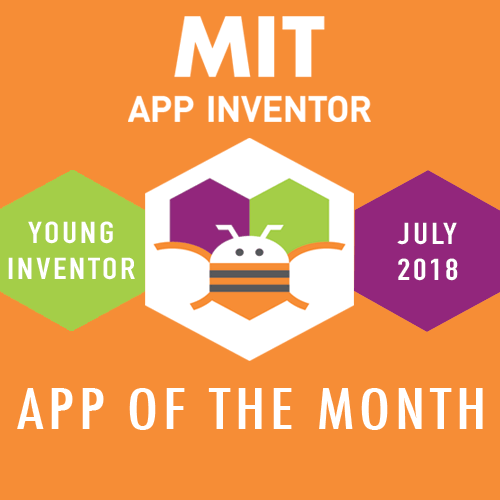 The Nyan Cat Wonder
by Jade Peters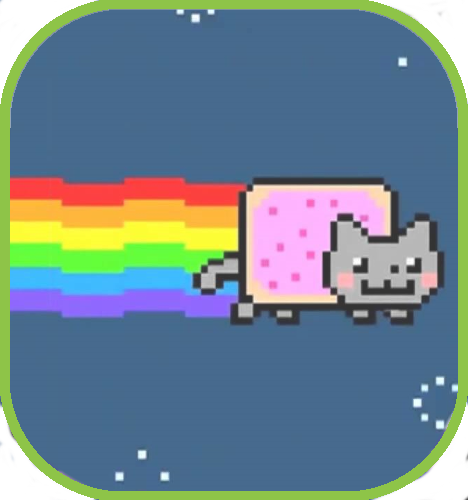 Jade is 9 years old and a 5th grader in the USA. She loves dogs, cats, and chocolate. Her app combines many games into one app, all with a Nyan Cat (or Nyan Dog!) theme.
Congratulations to July's Teen Inventors!
Dr. Phobos
by Jaymore De Vera, Nicole Ayson, & Napthaniel Nazareno
8th Power
by Hy Nguyen
Jaymore, Nicole, and Napthaniel are 10th grade students in the Philippines. They built this app for a research project on phobias. So far, their phobia-conquering app has had at least one success: Nicole is no longer afraid of birds! More info is available at their site.
Hy found that 2048 wasn't challenging enough, so built his own version. A high school student in the USA and an MIT App Inventor veteran, Hy's dream is to go on and professionally build games.
Congratulations to July's Adult Inventors!
Memory Owl's Times Tables
by Susan Lucas
Map Hunter
by Teddy Brask
Susan wrote this app as a companion to her published educational book, Memory Owl's Times Tables, as an alternative and visual method to teach children multiplication tables. But stay posted, as this is only one step in the English "zany entrepreneur" small business owner's master educational plan.
Teddy, an IT teacher in Denmark, needed a fun break while moving apartments, so, as any veteran app inventor would do, he invented. This game has users find treasures buried on a world map.
Congratulations to the June youth winners!
Sounds for Kids
by Reeth Bhasin
BEEducated
by Adithi Raghavan & Leo Fan
Help
by Rylea Cowart & Savanna Orr
Smart Huerto
by Antonio, German, Gregorio, Alfonso, Luque, Raúl
Reeth, an 11-year-old girl student from India, has been learning to code for the past year, via Scratch, MIT App Inventor, and Arduino. Her "muse", as she says, was her 8-month-old sister. With some help from her mentor Arnav, she created a sounds app that has colorful images and corresponding sounds.
Adithi and Leo, both students in the USA, were both new to MIT App Inventor when they started building this educational app about the plight of bees. They are passionate about the environment, enjoy sports, and intend to collaborate on more apps in the future.
Rylea and Savanna are both incoming high school freshmen in the USA. The goal of their app is to provide a helping hand to people who are struggling with depression alone. The girls want to make a positive change in people's lives, and this app is just one step in their ultimate goal.
Six students from a high school in Seville, Spain worked together to build an intelligent, real-time monitoring app for farmers. They initially designed this app for an IT contest. For more information on their project, visit smarthuerto.com.
Congratulations to the June adult winners!
Niss War
by SZY
Matematic
by Mihail
Q Plasticos
by José Antonio Albarrán Rodríguez
Tiny Chess
by Teddy Brask Andersen
Niss War is a revamped version of a game SZY made last year of the same name. It is a four-player offline strategy game conceptually similar to Risk. SZY is a mechanical design engineer from Taiwan, who enjoys making games in his free time.
Mihail, a student in Ukraine, programs as a hobby. He built this app for his small daughter, who recently started school, and he wanted her to be able to have fun and train her brain at the same time.
José, an architect (and future teacher!) from Spain, recently taught himself MIT App Inventor via YouTube tutorials. His app, Q Plasticos, uses popular gameshow-like games to teach concepts about plastics. This app is part of his Master's work in education.
Teddy, an IT teacher in Denmark, has wanted to build a chess game since his first VIC-20 computer back in the 80's. This app utilizes htmlchess, a SourceForge project.
Congratulations to the May youth winners!
Space Fight
by Christopher Hoppe
Clicker Heroes
by Bailey Harrell
Firefighter
by Tilen Kek
iTree
by Mandy Fung Ching Man
Christopher, a freshman in high school, wanted to design a cool game that he would enjoy building as well as playing. Space Fight is the result of his work, an arcade-like game in which you only have a laser blaster to defend you against hordes of enemies.
Bailey dreams of designing video games as a career, but for now, he sticks to App Inventor and completing high school. Clicker Heroes is a simple, fun game inspired by the popular website of the same name.
12-year-old Tilen has been programming for three years already. He is from Slovenia and currently in elementary school. He was inspired to build this firefighting game in honor of his grandfather, who is a fireman.
Mandy Fung is 11 years old, and a Primary 5 student in Hong Kong. Inspired by her love for nature and preserving the planet, she built iTree to help users interactively learn the steps involved in planting a tree.
Congratulations to the May adult winners!
Quit Smoking with EFT
by Teddy Brask Andersen
Tally Up Multi Counter
by Youssef Mossoba
Darts Scoreboard
by Rob Mainhardt
Kirchoff
by Roberto Fermin
Teddy, an IT teacher from Denmark, regularly submits apps that he makes to introduce his students to the flexibility and power of programming. He built this app with Thor Bugge, a professional NLP and EFT therapist. This app guides users through EFT ("tapping") to help overcome their smoking addictions.
Youssef learned programming in FORTRAN and BASIC, so App Inventor is quite different for him. He noticed that his health club manually takes attendance and keeps paper records, so he built this app to simplify the process of attendance and/or inventory for any purpose.
While playing Cricket (a darts game), Rob, a computer science teacher, found that keeping track of score on paper was unwieldy and difficult. He also found that he didn't like existing apps for this purpose. Therefore, he built his own.
Roberto is an aerospace engineer from Spain. He built this app to construct and solve simple circuits with Ohm's Law. Now pursuing a master's degree in education, he built this app for students he is working with in a secondary school.
Congratulations to the April youth winners!
Tic Tac Toe
by Eric Yoon
One-Line: Hexagon
by Hy Nguyen
Book My Parking
by Vedang Bhole
Safe Reporter
by Yoonsul Jung
Eric, a Korean student from Mexico, and Diego Andres Villareal Martines, also a student in Mexico, took on the challenge of creating a simple tic-tac-toe game to challenge their programming skills.
Hy, a high school junior in Texas, continues to build upon his repertoire of challenging puzzle games with One-Line: Hexagon. He based it off an existing game, The Witness.
Vedang is a student in India, and has worked in both C++ and Java in the past. He sees a lot of chaos in parking lots, so created an app in which users can book parking ahead of time at registered stores/parking lots.
Yoonsul is a student from South Korea, who has worked with Scratch, App Inventor, and C. Her app helps worried parents by automatically sending texts upon leaving and arriving at specified locations. Taeil Jung also helped with this app.
Congratulations to the April adult winners!
MaGi
by George Vakalis
Think 2.0
by Pavel Zanko
Hashtag Chat
by Teddy Brask
Never Miss a Bus
by Xristos Xondrogiannis
George is no stranger to App Inventor programming, and has created another minimalistic game. When describing his new game, he said, "This app reminds me that you try to find your other part, and when you lose it you try to find once more. That's the main idea of the game. The icon looks like a half man but also looks like the letter L from love."
Pavel is an engineer-in-training in the USA who loves sports and math. Think 2.0 is a math game that he has been developing for quite some time, but couldn't put into practice until he found the right programming environment.
Teddy, an App Inventor veteran, is a Danish Computer Science teacher. His chatroom app supports hashtags to dynamically sort and find what other app users are chatting about.
Xristos, a software specialist in Greece, found himself frustrated with late and missed busses, so created this app to help track where they are. He provided a nugget of wisdom for all App Inventor users: "The fingers of programmers, are like the punches of a kickboxer that trying to win a game..so effective!"
Congratulations to the March youth winners!
Carl's Environmental Adventure
by Paolo Gabriel M. Rigor
Stop Cyberbullying
by Verona Project
The French Tenses App
by Lokesh Pugalenthi
Cortex
by Liam Thoreson
Paolo is a 7th grade student in the Phillipines who doesn't let autism stop him from achieving his dreams. He created this educational game to help Carl on a mission preserve Planet Earth.
The Verona Project (Stop Cyberbullying Isbilya) is two students working to prevent cyberbullying and fostering safer school environments. Both are 16 and from Spain.
Lokesh is a 17-year-old student in the USA who has been programming for several years now. He saw a lack of apps to help him in his own French education, and opted to fill that gap. Also, this app fills his loves for math, sciences, computing, and French.
Liam, a middle schooler in the USA, has been coding for the better part of his young life. He created this app as an aid for Alzheimer's patients, or anyone with memory issues. He built this as part of the Destination Imagination program. Liam hopes to work in astrophysics or computer security one day.
Congratulations to the March adult winners!
Sin ± Plin
by Dimitrios Chatzifoteinos
Memorize This: Farm
by Matteo Pretto
Spectroscope AS726X
by Denis Mitlacher
My Crypto Folio
by Dana Auman
Dimitrios, a lawyer from Greece, created this app to encourage his daughter to hone her math skills via a fun phone app. His app mimics doing three-digit addition and subtraction on a chalkboard.
Matteo works in a supermarket in Italy. He programs to keep his mind healthy and active, as well as to help teach his dyslexic son. He built this memory app as a brain exercise for both father and son.
Denis, an ICT support technician in Germany, created this hobbyist app to interface with the SparkFun Spectral Sensor Breakout Board (the required ino file is within the assets folder of the app). This app utilizes the BLE extension. He describes himself as a geek who is full of ideas and has too many hobbies.
Dana is a self-employed contractor in the USA with no prior coding experience. That did not stop him from building an app to keep track of one's cryptocurrency values. His app makes the complex field of cryptocurrency slightly less daunting.
Congratulations to the February youth winners!
Sum 4x4
by Hy Nguyen
Catch the Snowflakes
by Nicholas Chronis
Snake Game
by Alejandro Ramirez
Sweet Reads for Smart Girls
by Kyra Dhingra
Hy, a high school junior in the USA, specializes in randomized number-based games. Sum 4x4 is his latest (and most difficult) venture. He wrote it in Python first, then translated it into App Inventor.
Nicholas is a 10th grader in Canada. He started coding in the 4th grade and created this app as part of his computer science course. It is a simple game in which the user must catch as many snowflakes as possible.
Alejandro hails from Spain and is 16 years old. He describes himself simply as someone who loves to code, and his app is a recreation of the classic Nokia Snake game.
Kyra is an 11-year-old student in India. She created this app to showcase novels with strong female leads and encourage education. She loves travelling, dogs, and robotics.
Congratulations to the February adult winners!
Capitals of the World
by Evangelos Avdelidis
misMapas
by Pedro Julián Moreno Beltrán
Never Be Lost
by Goodstas
Braille
by George Vakalis
Evangelos is a computer science teacher in Greece, and created this app with his students. It both teaches and quizzes the user on capitals of the world. Evangelos is no stranger to programming, with experience in Pascal, C, Visual Basic, and Python.
Pedro, a computer engineer in Spain, has been programming for 15 years. His app shows distance, speed, and location on a map, and spends his free time teaching computer science to his two children.
Goodstas is a programmer in Israel. He created this app to help people keep track of not only their own location, but their favorite locations so that they never get lost. He loves learning new things and App Inventor is his latest adventure.
George is an IT teacher in Greece, and an App Inventor veteran. His app shows what all the basic letters, symbols, and numbers are in Braille. He has been spending time with special needs students and build this app for them.
Congratulations to the January youth winners!
Kapong
by Pattawan Bongkodmas & Pulin Neramitrattanapracha
BMI
by Guruvira Singh
DiabRemind
by Yashas Nair
The First Aid Portable
by Vedang Bhole
Pattawan and Pulin are both girls from Thailand who wanted to build a game together that would incorporate their different interests, so they built Kapong, a Pong derivative.
Guruvira, a student in India, created this BMI app for a school competition. He is currently learning C++, and his hobbies include photography, gaming, painting, electronics, and coding.
Yashas, a 12 year old student in India, built this app to assist with diabetes management. He is currently studying programming, and is interested in learning via practical approaches.
Vedang is a 15 year old student in India. He built this app to help people be prepared in emergency medical situations. His dream to be able to help people and animals alike.
Congratulations to the January adult winners!
Ultimate Fokker Fighter
by Teddy Brask
Cash Counter
by Munshi Ram
Bridge Diary
by Barry Buehler
Infiblox
by Devin Samarin
Teddy, an IT teacher in Denmark, continues to build apps to inspire his students. Ultimate Fokker Fighter is a simple game in which two Fokker aircraft fight for supremacy in the air.
Munshi, a native of India, found himself with money management difficulties. He built Cash Counter to help others like him manage their money better.
Barry is a retired physicist/engineer from the USA. He enjoys Bridge, but, like many others, dislikes keeping paper score sheets, so he built this app to help others in his situation.
Devin, a Las Vegas native, built this app as his final project for an Intro to Engineering class at his university. His game is a remix of "Bloxorz", a game in which one rotates a prism to reach a goal.
Congratulations to the December youth winners!
Simple Rubik
by Hy Nguyen
Nyan Cat vs Evil Nyan Cat
by Gavin Nguyen
Learn RSA
by Sofia Flynn
Talking Calculator
by Abdullah Sabahat
This is Hy's second time winning AOTM with a simple, clean puzzle game that features unlockables and hours of fun play, while teaching the player how to solve a Rubix Cube. He is an American high school junior with aspirations to become a full-time game developer.
Gavin, a 14 year old American student, built this app as a class project. He describes himself as "a boy" and "not that tall". His app is a game based on the orientation sensor in which the good cat must run from the bad cat while collecting coins.
Sofia is an American high school junior from Georgetown. She enjoys math, especially the math involved in cryptography, and created this app to help people learn the RSA encryption algorithm. She plans to pursue a future career in mathematics.
Abdullah is 8 years old, and a third grader in Pakistan. He loves robotics and programming and describes himself as having a passion for programming. His talking calculator app allows a user to multiply, divide, add, or subtract any two numbers.
Congratulations to the December adult winner!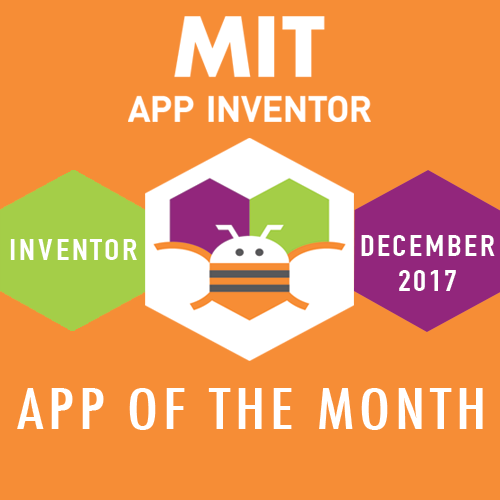 Santa's Helper
by Teddy Brask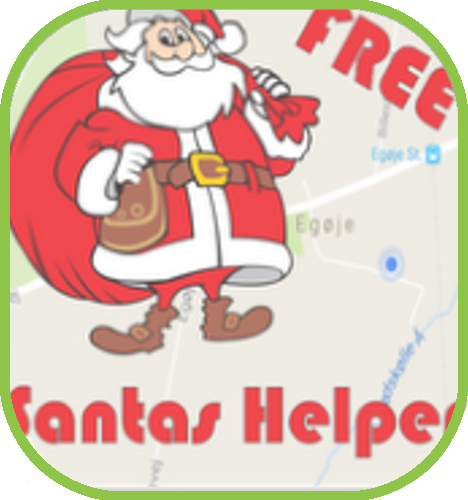 Teddy Brask, a repeat AOTM winner, creates apps as demonstrations for his own computer science classroom in Denmark. His app is based on the popular game Pokemon Go--a location-based game that allows users to "pick up" gifts near them.
Congratulations to the November youth winners!
Blocky Fall
by Scott Driver
Jet Mania
by Sachintha Senanayake
Book to Give
by Viswanath Kasireddy
Buttons
by Dylan Yu
Scott, a student in the UK, has been dabbling in programming for about a year. He built Blocky Fall as a challenge to make the most professional looking app that he could. He considers himself a young entrenpreneur. His game is a twist on the classic Space Invaders, with its own flair.
Sachintha's game, Jet Mania, was developed for the Young Computer Science of 2017 prize in Sri Lanka. He started programming around 10 years old. Now, at 13 years old, he already has grand plans for the future: to study at MIT.
Viswanath compounded his love for books with his love for technology by creating an app that allows anyone to request or donate specific books. He is a high school senior in the USA who plays the clarinet and works on hobby projects during his free time.
Dylan's game, Buttons, comes with no instructions, instead challenging the user to learn the rules of the game by playing it. He is a senior in high school in the USA, and hopes to become a video game developer.
Congratulations to the November adult winners!
LogBook
by Yung Kai Wing Johnny
Fish Tank
by Dan Cameron
WeatherApp
by Teddy Brask
Plant Report
by Pradeep Nayak
Johnny, a quantity surveyor in Hong Kong, is a cancer patient looking at retirement soon. He values time, and wants to create useful apps for people to be able to manage their own time more effectively.
Dan, who sometimes goes by Rex Barker, is a Swiss engineer who built this app as part of experimenting with Lego robots. He runs this app on an old, defunct tablet continuously on his desk. He has two boys and enjoys both robotics and baking with them.
Teddy is a computer science teacher in Denmark. He spent 30 years as an IT consultant, and has been living with cancer for the past three years. He created this Weather App to show his students an example of a "real-world" application.
Pradeep is an executive in India. He created this app for SCADA data monitoring. Though it is specific to a certain powerplant, this app is a great tool that could be easily adapted by anyone who needs to monitor data.
Congratulations to the October youth winners!
HitTheDot!
by Nicolas Proske
Alphabets for Kids
by Manan Jindal
Rescue Animal Helpline
by Ashnidh Khandelwal
Fast Chat
by Danish Hakim
Hailing from Germany, Nico spends his time snowboarding and biking. He enjoys gaming, and his app is a simple, clean, entertaining game.
11-year-old Manan from India created this app for small children to learn the alphabet. Computers are his passion, and he recently has moved from just playing games to creating new games of his own.
Ashnidh, a student in India, loves coding, and created this app to help him advance his programming skills. He loves dance and gymnastics. His app identifies animal rescue shelters along with their contact information.
Danish, a student from Malaysia, created this app to explore usage of FirebaseDB. His app allows users to create accounts, add friends, and chat privately with each other.
Congratulations to the October adult winners!
Soccer Autoplay
by Teddy Brask
Barrel Organ
by J.M.Beltrán Urcelay
Binary Converter
by PixiiBomb
Niss War Angel (天使軍團)
by SZY
A teacher from Denmark, Teddy created this app for his middle school students as part of his teaching material. His soccer "game" is entirely automated, and the user needs to change properties within the app to create better or worse players.
JM is a retired teacher from Spain, who felt nostalgic about old musical instruments. He made this app to enable easy creation of simple songs.
Nicholette Liguori, better known as PixiiBomb, is an avid gamer, app developer, artist, designer, singer, cosplayer, and more. She created this app to help a fellow classmate with his own programming troubles.
SZY is a teacher who found that his students loved strategy puzzle games. He developed this standalone tower defense game for his daughter.
Congratulations to the September youth winners!
3 Steps
by Hy Nguyen
Mood Mediator
by Annika Huprikar
Under My Wing
by Girls Who Code Club GHS
Duel of Pixels
by Braden Inman
Hy, a high school student, created 3 Steps to challenge his programming skills and cultivate his interest in video game development. His simple, elegant math-based game features unlockable collectibles as rewards.
A rising sophomore at Deerfield High School, Annika is deeply involved in school activities, clubs, and sports. She created Mood Mediator for teenagers to be able to seek support, advice, and counseling confidentially.
Cassandra Marcussen, Michelle Woo, Melissa Woo, Julia Marcussen, Nithya Shenoy, Ruya Maredia, Isabella Harrison, Mira Lukazik, Miriam Ojjeh, and Natalie Ito developed this app as a resource for victims of abuse.
A freshman studying Computer Science at Boise State University, Braden studied App Inventor in high school and loves anything science or tech related. His app, Duel of Pixels, is a turn-based fighting game featuring character creation, level selection, currency, and upgrades.
Congratulations to the September adult winners!
TicTacToe
by Jörg Kowalski
Excel Cheat Master
by Jamie Lim
Numbers Puzzle
Hiu Chee Keong
forKids
by Vladimir Herrera
Jörg, a cardiologist from Germany, created his own version of the popular game as a "brain training" exercise. He has been dabbling in programming for quite a while, starting with Turbo Pascal.
Jamie, a business analyst from Malaysia, created this app to help herself and others quickly locate the Excel tips and tricks people need to make them more productive.
Hailing from Malaysia, Hiu created this app to cultivate his hobby of programming, which he says helps sharpen his mind. Numbers Puzzle is a game with multiple levels in which number blocks need to be swapped to their appropriate places.
Vladimir, a teacher from Venezuela, created forKids for his niece, who loves painting and music. His app has four educational minigames for preschoolers that can be played in both English and Spanish.
Congratulations to the August winners!
Youth Winner
Adult Winner

Save Water Save Lives
by Soham Joshi
NiMa
by George Vakalis
Seventh grader Soham is passionate about math, science, and technology. His SWSL app educates people about the global water crisis and encourages them to save water in their everyday lives.
Multi-time winner George from Greece got hooked on App Inventor by his child. He enjoys making simple fun apps, like Nima, where the player has to stay between the lines avoiding touching them or cross them for as long as he can.
Congratulations to the July winners!
Youth Winner
Adult Winner

Lorne Park Secondary School
by Justin Xu and
Frank Yan
US Citizenship Test
by Humberto E. Franyie
Students Justin and Frank created this specialized app to provides basic, daily, and urgent information to the Lorne Park SS community in Canada. They love to experiment with new things, especially in terms of coding and designing.
Humberto came to the US from Cuba five years ago. He became a US citizen this year, so to help others to achieve their dreams, he decided to create this app to "give back all the blessings I have received from this beautiful country".
Congratulations to the June winners!
Youth Winner
Adult Winner

SEchat
by Matthias Rosezky
AnTo
by George Vakalis
Labeling himself as "just another guy from the Internet that loves to experiment with App Inventor", Matthias, a high school student from Austria, created a chat program with AES encryption.
George, a Greek Computer Science teacher, created a minimalistic, fun, easy to use game. The player has to match the color of his ball to the same color of the other balls. It's addictive!
Congratulations to the May youth winners!
North America Map Quiz
by Raquel Gutierrez
and Kimmy de la Garza
Checkin123
by Wen-Chi Chiang
Yatziri
by Diego García Ludewig
Daily Quotes
by Miranda Lopez
and Regina Romeu
12th graders Raquel and Kimmy took a school assignment to a whole new level with their North America Maps Quiz app. Test your knowledge of Canadian, Mexican, and US states and capitals, all while enjoying listening to the respective national anthem!
Wen-Chi, from Taiwan, made an app to check in with your friends and family. You can send people your current location via email, or use the app when you are lost.
Mexican student Diego decided, since there is no virtual assistant for Android that does not belong to Google, why not create his own standalone app? Speak your commands and the app responds.
Daily Quotes is an app meant to help others by boosting their mood with inspirational quotes. Miranda and Regina like helping others, so they made this app where you select quotes according to your mood.
Congratulations to the May adult winner!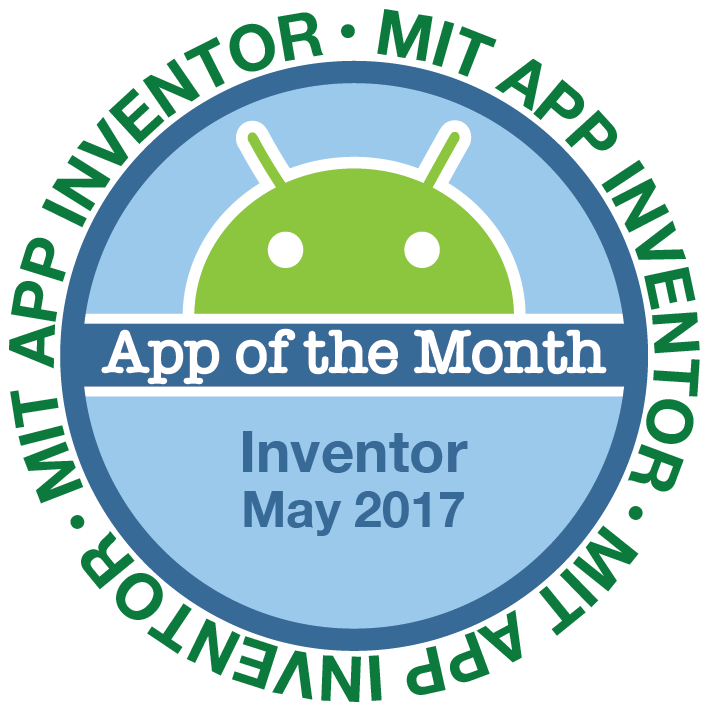 Simple English
by Danilo Santos de Oliveira Sampaio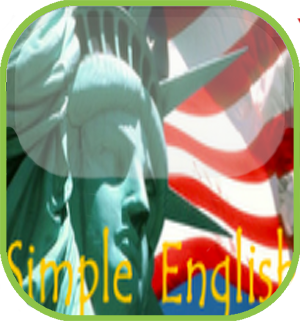 Brazilian Danilo wanted to make English more accessible for beginners, so he made a comprehensive app to teach basic English words and help learners practice their English pronunciation.
Congratulations to the April youth winners!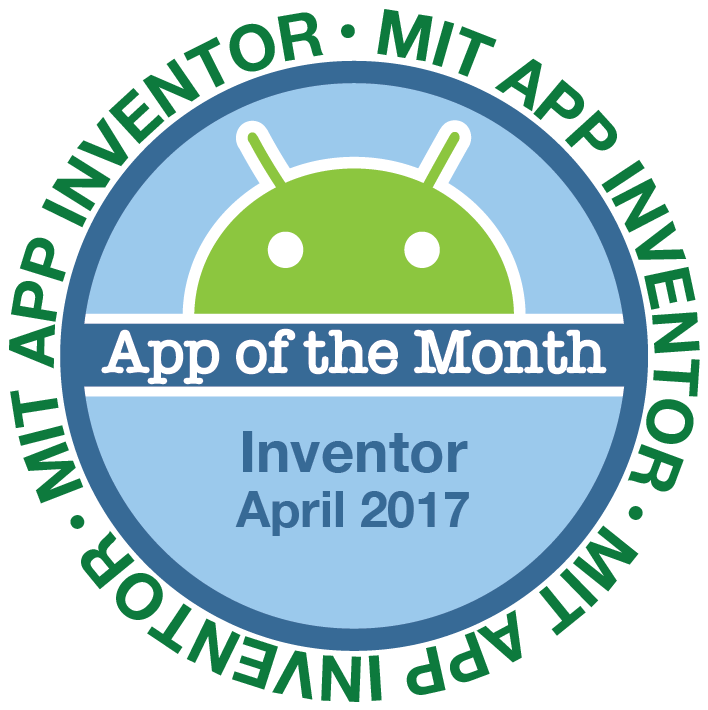 Truth or Dare
by Jacob Palacios,
Sean Mcquerrey,
Logan La barge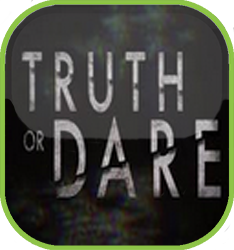 7th Graders Jacob, Sean, and Logan made the traditional schoolyard game digital and mobile for their school project.
Congratulations to the April adult winners!
World Radio V1.0
by Victor Positan
Inverse & Cramer's Calculator
by Rini Hafzah Binti Abdul Rahim
Resistor Color Code
by Soha Odahn
Playbook
by Gale Fulton
Romanian-Canadian Victor made his radio app to reflect his passion for music. Victor used to play music in clubs and events; his stage name is DJ Buddy Vic.
Rini, a lecturer from Malaysia made an app to help her students solve simultaneous linear equations by using the Inverse Method and Cramer's Rule.
Palestinian IT teacher Soha made her Resistor Color Code app for 2 reasons - to show her students that App Inventor is fun and practical, and to provide her students with an app in their hands to calculate the value of the resistors.
Gale Fulton's first attempt at writing an app worked out well. His love of sports led him to make his own football video game app. Sharing it with others, he realized he was on to something!
Congratulations to the March winners!
Youth Winner
Adult Winner

All in One Vocal School Assistant
by Khalid Abdalla
CobU
by Dimitrios Chatzifoteinos
Austrian 9th grader Khalid's first time programming proved successful with his all-in-one app to help students stay organized at school.
Dimitrios, a lawyer from Greece, made this calculator app with blind and visually impaired people in mind. The user interface is specially designed for ease of use.
Congratulations to the February winners!
Youth Winner
Adult Winner

Slider Game
by Amogh Chaturvedi
Veterans in Crisis
by Jeanmarie Lerner
11 year old Amogh loves logic games and wants to inspire others to love them as well. His Slider Game app is a well-executed version of the classic tile swap puzzle game.
Self-described old coot and retired Army pilot Jeanmarie Lerner created Veterans in Crisis to connect veterans in need with the resources that are available to them, using location services on their phone or tablet.
Congratulations to the January youth winners!
Dice
by Anson Savage and Tyson Seable
Spell Bind
by Param Thakkar
Pictionary 2.0
by Cameron Mitchell
& Jacob Michalski
Grand Quiz
by GK Rahul Khanna
Two cousins who "love being nerds and programming apps", Anson and Tyson have made a simple but elegant dice app. Choose how many dice you want and roll away!
Canadian 7th grader Param created Spell Bind, a very helpful companion for studying spelling. The app says words out loud and you get to spell them. It tests you, tracks your score, and also has a "Learn" feature.
A team of hardworking students from New York who love technology with a passion created a Pictionary play and pass app. Test your drawing skills with your friends!
15 year old Rahul created Grand Quiz as a resource for Indian students to prepare for national exams. The quizzes test general knowledge, so they are useful for anyone in the world!
Congratulations to the January adult winners!
Memorama
by Rodolfo Diaz
Black and White
by George Vakalis
Speak and Spell
by Luke Aaron
EmergencyAlert_SMS
by Ashok Verma
App Inventor enthusiast Rodolfo, from Mexico, made this memory game with a Christmas theme. Match the tiles to win the game!
George, who loves his job teaching Computer Science in Greece, made his own game where the user must avoid spikes to gain points. Not easy, but fun to play!
Speak and Spell is the perfect app for anyone who struggles with spelling certain words or is dyslexic. Luke from the UK made this app to check spelling and definitions of spoken or typed words.
Retiree Ashok created his app to help victims of crime who are unable to communicate about her/his plight. Just pressing or button or shaking the phone prompts the app to send texts with GPS location information automatically to 3 contacts.
Congratulations to the December youth winners!
Study Punch
by Ula Kanduc
AQ Alarm Clock
by Federico Alessandrello
Music Transposer
by Brian Song
Biblo Banfi
by Riccardo Stucchi,
Leonardo Ferrentino,
Davide Bonalume.
Ula, from Austria, created StudyPunch, to help students feel more involved in their learning process. Her app features German grammar questions that provide the knockout punch for test prep!
Another student from Austria, Federico, wants to create something revolutionary. He is off to a good start with his alarm clock app that requires the user answer questions before it shuts off the alarm.
Saxophone player and app coder Brian from South Korea, decided to mix his two passions by creating a useful app to help him transpose notes for playing music.
Three Italian students teamed up to make this comprehensive app to digitize their local library. The app allows catalog access and book checkout, all from your phone or tablet!
Congratulations to the December adult winners!
Tome Nota
by Emerson Capuchi Romaneli
Calculator
by Jörg Kowalski
Animales Animals
by María Dolores Masó and
Angel Martínez
Floppy Bubble
by Bulat Manasse
Brazilian Computer Science student Emerson made this excellent note taking app as an example for a mini-course he is teaching on App Inventor.
This Calculator app was created by German cardiologist Jörg, who brushed up on his old coding skills to create this comphrehensive app.
Spanish couple María and Angel leapt into coding with this fun app to teach their two young daughters some Spanish/English vocabulary. Every child loves animals, so that's the theme of this extensive app.
Floppy Bubble is another first foray into mobile app development by Bulat, from Romania. He decided to experiment with App Inventor and created this highly addictive game.
Congratulations to the November winners!
Randomizer
by Bogdan Mihalca
Taking Notes
by Tyson Seable
Qoogle
by Arjun
A Leer Niños
by Jose Sanmiguel
Romanian student Bogdan created a versatile app, Randomizer, with several features. It generates random numbers, lists, and coin flips. It also includes a color picker and a date picker.
Simple Notes offers an easy and intuitive way to take and store notes. It makes creative use of user interface components to create an elegant and customizable interface, which allows the user to set their desired font size and color scheme, and to require a PIN for access if desired.
Qoogle quizzes users on their knowledge of Google search shortcuts, using multiple gamification elements—including points, a timer, and a global leaderboard—in order to keep them engaged. These elements are integrated seamlessly into a sleek user interface that makes good use of layout, color scheme, and sound effects. .
Jose, from Colombia, created a practical method for children and adults who are starting to read the Spanish language. He created the A Leer Niños for his son, who is learning to read. The app uses recorded phonetics to help the user learn sounds, words, and sentences.
Congratulations to the October youth winners!
Alpha Forge
by Mihir Tomar
Manuel María
by Alberto Suárez
Pocket Processing
by Abdur-Rahmaan Janhangeer
CNHSS
by Raveesh P
Mihir, a 14 year old Indian student, created Alpha Forge, to keep groups connected while travelling. You can see all of your groupmates' locations on a map, chat with them, raise an emergency alarm if you are in danger, find your groupmate if he is lost and much more.
16 year old Spanish student Alberto made his app, Manuel María, to celebrate the Día das Letras Galegas( Day of the Galician Literature), in recognition of the author's poems and contributions.
Pocket Processing allows users to build their own simple animations by writing and testing JavaScript code right in the app. It was chosen as most innovative because of its unique concept—an app that allows users themselves to code and be creative!
CNHSS was created by a 13-year-old student at the Christ Nagar Higher Secondary School (CNHSS) in India, in order to offer their classmates a multi-purpose app to facilitate many aspects of their everyday lives. The app offers information about the school, including bus routes and the school pledge, as well as useful functionalities, such as a link to an online payment service for term fees, and the ability to input and save timetable information.
Congratulations to the October adult winners!
Gilfredo
by Ricardo Merces
Symmetrix
by Necmettin
Cloq
by Brian Hameister
Fin
by Armando Cavanha F.
In Gilfredo, the chicken has to move quickly to avoid the hatchet! Ricardo, a coding teacher from Brazil, made this fun app.
Necmettin, from Turkey, created a simple but fun app that takes the Paint Pot app to a new level with mirroring in all 4 quadrants.
Brian, from Germany, got his inspiration for Cloq from his daughter. She saw this clock on the internet so Brian decided to see if he could make it using App Inventor.
Fin is an all-in-one calculator for Interest Rate, Present Value, Periodic Payment and Number of Payments, created by Armando, a Brazilian engineer.
Congratulations to the September winners!
Youth Winner
Adult Winner

Math4Kids
by Arnav Sethi
¿Que llevo yo?
by Gerard Fossoul Soler
14 year old Arnav from India created a math app to test kids arithmetic skills. He built he app to help out the NGO where his mother works.
Planning a meal with family and friends? Spanish developer Gerard's comprehensive app makes the task easy and organized!
Congratulations to the August youth winners!
FlappyBird
by Necmettin
Tiny Songs Data Base
by Gopi Krishna
iParrot
by Sahil and Saabir Sadik
AutoResponder
by Pradeep Pasula
Necmettin, a past App of the Month winner, does it again with his excellent recreation of a classic game app.
Gopi, whose ambition is to become a professional app designer, created a neat little app that plays a selection of his favorite songs.
15 year old twin brothers, Sahil and Saabir, collaborate on their expansive app that puts all your communication apps at your fingertips.
Pradeep, from India, a student majoring in electronics and communications engineering, created an auto reponse app with multiple and customizable messages.
Congratulations to the August adult winners!
FuncGraph
by Christian Caicedo
Tu Voz
by León Bátiz
Cam Maker
by Miguel Esteban Lineros
ClickListenCall
by Ashok Verma
IT student Christian from Ecuador has a future in app development. His app beautifully graphs many math and trig functions for viewing and analyzing.
León's app, Tu Voz allows hearing impaired and deaf people to communicate with a simple and useful interface. León, an artist from Mexico, wants to contribute to improve communication and avoid discrimination.
Cam Maker allows the user to calculate and represent rotating planar cams with linear follower mechanisms. Inventor Miguel, a Spanish Industrial Engineering student, has developed a new passion for app devlepment with this project.
Ashok, a retired government worker in India, took up programming in his newfound spare time. His app makes calling friends on the phone as easy as a single click!
Congratulations to the July youth winners!
Rebound
by Martin-John Hearty
PingU Texting App
by Mihir
Zakaah Calculator V11
by Janhangeer Abdur-Rahmaan
Arduino Multiple Controller
by Sivarajan
Martin-John, a student from Canada, made a fun, creative game app. Watch out, it can be addictive!
Ninth grade Indian student Mihir made a convenient app for hands-free texting.
Janhangeer, from Mauritius, created his app that calculates Zakaah, one of the pillars of Islam. Zakaah is the contribution of one's wealth in support of the poor or needy .
14 year old Sivarajan, from India, created this app with multiple ways to control an Arduino device through Bluetooth.
Congratulations to the July adult winners!
Tower of Hanoi
by Khoi Nguyen Tran Minh
Arm Builder
by Anthony Giansante
Cybersecurity Maze
by Kathleen Falcon
Smurf Guess Obj
by Chiccovision
Khoi, one of the MIT App Inventor Master Trainers from Vietnam, recreated the famous Tower of Hanoi puzzle with his app.
Anthony, a Canadian coding enthusiast, created this arm-focused workout app for the obsessive compulsive.
In this app, the hero sprite, Android, is guided through a series of mazes that also teach about cyber security. It was made by Kathleen, a Computer Science student from New Jersey
Italian cook, known as Chiccovision, recreated a fun recall game. Guess which object appears in the scene and score points.
Congratulations to the June youth winners!
Twiddle
by Scrapp Society
My_Dictionary
by Sara Alexander
E-Gravity
by Picamal Fanny, Lisa Liagre, Gaëtan Kervarec, Kevin Roldan, Mussard Cassandra
Cone Crasher
by Joseph AlAziz
Three Italian students who call themselves the Scrapp Society made an addictive game with Twiddle. Try and beat it!
10 year old Sara from Romania is a musician and a coder. In her app, the user can select the dictionary, and can add new terms and definitions.
Five French students, 14 years old, wanted to prove that the sun is rotating around the earth, not vice versa. Their unique crowdsourcing app helps!
Joseph, an American 8th grader, made a fun and colorful game where the user must dodge traffic cones in the street.
Congratulations to the June adult winners!
Planning Green
by Stéphanie
Speak-a-List-12
by Mark Osborn
SolarPE
by Pedro F. Garcia Martin
Discover Colors
by Emmanuel Esquivel Alva
Stephanie, a Computing IT student in the UK, created an app to show people what to expect with some simple green changes in their house or garden.
Do you find you can't remember anything? US retiree Mark created a great app where you create any kind of list just by speaking into your phone or tablet. The list can then be texted or emailed.
SOLARPE , by Spanish teacher Pedro, is a guide for the design and installation of Autonomous Photovoltaic Systems. Tilt, orientation, and maximum solar height are just some of the many features calculated.
Mihajlo, from Serbia, created this brain logic game for his grandson. Like Mastermind, it tests the user's logical thinking skills to solve the puzzle of the four colors.
Congratulations to the May youth winners!
Space Invaders
by Necmettin
Housie Game
by Anirudh Kothapalli
Spark Interview
by Sabrina Kundu
SCompass
by Aaditya Dokania
Necmettin from Turkey learned to code by learning App Inventor, bringing the classic game to the smartphone.
14 year old Anirudh created this app to generate five random Housie tickets (with playing card theme) at the touch of a button.
US high school student Sabrina created an app that teens and other people new to the job world can use to ace interviews and make the best resumes.
Another 14 year old, Aaditya from India, created a simple compass app which allows users to choose their favorite color compass and then use it.
Congratulations to the May adult winners!
BioRhythm
by Barry Buehler
Reporte Ciudadano
by Emmanuel Esquivel Alva
Learn Multiplication
by Fatma Ali
Clubsport Mobile
by Alan Scobie
Retiree Barry Buehler created his app to provide the user with the fun of looking at a particular day and seeing how well the bio prediction matches their assessment of their status on any given day.
Emmanuel from Mexico created his community-based app to allow society to demand better services and living conditions in real time.
Learn multiplication in a new an unique way with Fatma's app. Varying levels, timing, and awesome animations and sounds make learning fun!
Alan's comprehensive app can be used to run a swim team's training session. Users can set objectives, report sessions and incidents, risk assessment and reflection. Great tool for any swim coach!
Congratulations to the April youth winners!
Multiplication Dash
by Tyson Seable
Froggy Crash
by Fabrizio
SuperSelect
by Tövis Csapat
Archery
by Sishir giri
13-year-old Tyson Seable created this app, Multiplication Dash, so that children can learn about multiplication in a fun way!
In this game, created by 19-year-old Fabrizio, you must guide the frog to avoid all the obstacles in its path!
This game is all about recycling and cleaning up the earth! Play a character who recycles the trash they find on the street, and learn fun facts about being green along the way!
Try your hand at archery with this fun game!
Congratulations to the April adult winners!
StolKal Meble
by Marek Mitoński
Parachute Rescue
by Renato Rodrigeus
Tractor Rollover
by Giovanni Chessa
الكتاب الناطق 01
by Nadira F. Mushtaha
StolKal Meble is an app for carpenters that allows them to measure the materials they need to create different kinds of furniture. This beautifully-designed app was created by Marek Mitoński.
Renato Rodrigeus used App Inventor to create a modern take on a classic game!
This unique app by Giovanni Chessa calculates the maximum ground angle that is accessible to a tractor driver.
This is an educational app that allows children to listen to and read arabic words and draw their own pictures!
Congratulations to the March youth winners!
Gnose
by Calebe Gomes Pereira
Duck Dash
by Lawrence Dennison-Hall
EmergencyTreatments
by Anthony Giardino
MyCompanion
by Tanvitha Kotla
Gnose is a great student organization app whose main purpose is to use mobile technology to promote an improvement in learning and student mobility in education, through the use of a specific application and available resources.
Duck Dash is a cool new take on the Frogger game, where ducks have to cross a river and avoid wooden planks. Great fun!
Anthony made the EmergencyTreatments app in response to his father's death from an emergency situation. Hopefully this app can provide emergency information to prevent future deaths.
MyCompanion is a full-featured educational app that includes formula calculations, translations, a to do list, and a virtual periodic table.
Congratulations to the March adult winners!
Music for Sound Health
by Gaelen Thomas Dickson
Mapboard Lite
by Uma Bhat
Bluetooth Free Chat
by Monika Kumar
Speeching
by Daniel Esparza
Music for Sound Health allows the user to listen to various relaxation sounds, with the added feature of overlaying sounds to create a soothing listening experience.
When her search for a map drawing app turned up no results, Uma Bhat decided to create her own app, where the user can draw and trace maps, and add notes to each map.
Monika Kumar, a self-described determined girl who loves to code, created an app for free chatting between friends over bluetooth.
Speeching is a nicely designed translation app, where the user can translate phrases in different languages.
Congratulations to the February youth winners!
Get Running!
by Ishan Vermani
CatchMe
by Larsen Cundrič
ConcussionChecker
by Emma Yang
Jarvis
by Jeremy Humphrey
Get Running! is an app that allows the user to keep track of their exercise time and quickly switch between different exercises without having to constantly check their phones. This app was created by 15-year-old Ishan Vermani!
CatchMe is an addictive game created by Larsen Cundrič from Slovenia! CatchMe is fun to play, but it also allows you to earn points and spend them on cool upgrades!
11-year-old Emma Yang created this innovative app, which helps the user look for signs of a concussion and allows them to log the progress of the patient so they can easily report information to parents, doctors, and coaches!
Jarvis is an artificial intelligence app created by 15-year-old Jeremy Humphrey! He created Jarvis to help him keep track of things in his life, and it also answers a wide variety of questions!
Congratulations to the February adult winners!
SUN City Radio
by Syed Abdul Rahim
Unroll The Escape
by Helwys Gonzalez Lorenzo
The Blood Pressure App
by Brandy Robinson
MathAttack
by José Gomes de Paula Neto
SUN City Radio is an app that tries to spread awareness about the environment and encourage people to plant trees through the radio! This app was created by Syed Abdul Rahim, a civil engineer from India!
Unroll the Escape is a fun game created by Helwys Gonzalez Lorenzo, a student from Canada. In this app, you have to direct a ball around a series of obstacles to reach the exist.
The Blood Pressure App, created by Brandy Robinson, allows users to log their blood pressure along with their dietary and exercise habits. The goal of this app is to help people lead healthier lives!
MathAttack is a creative game that aims to teach math in a way that is fun and educational! This app was created by José Gomes de Paula Neto, who is a student from Brazil!
Congratulations to the January youth winners!
SpiritWheel
by Markus Vinsa
ABC Edu
by Sarika Pasumarthy
Barcode Alarm
by Kee Qian Ling & Fion Yao
Calamity Relief
by Chinmayi Ramasubramanian
SpiritWheel was created by Markus Vinsa, an 18 year old student from Sweden who has been using App Inventor for less than a year! This beautifully designed app encourages people to donate to charity by having them pick an organization from a rotating wheel.
ABC Edu is a creative app that uses sound to teach young children about letters! It was created by 11-year-old Sarika Pasumarthy, who has been coding since she was 7!
BarCode alarm was developed by Kee Qian Ling and Fion Yao, 16 year old students from Singapore! This innovative app forces the user to scan the barcode of a random item in their house in order to turn off the alarm!
After the floods in Chennai, India, Chinmayi Ramasubramanian, who is 10 years old, decided to create an app that would help. CalamityRelief gives the user information on how to help those who are effected by a natural disaster, as well as items that should and should not be sent.
Congratulations to the January adult winners!
Make Own Bedtime Stories
by KidsAppBaba
Control Books
by Lucas Ferreira
Chennai Flood Help
by Rajesh Kumar
Make Own Bedtime Stories, a creative app that allows the user to select from a variety of locations and characters to create their own custom bedtime story! The app will even read the story to you, complete with animations!
Lucas Ferreira, Alan Souza, Rodolfo Martins, and Rafael de Souza, all young computer scientists from Brazil, have come together to create Control Books, a new book cataloguing app! It allows the user to keep track of a wide range of books, request books that aren't available, and text each other when the books are available.
Rajesh Kumar, a college student from India, created this app to help the victims of the Chennai Flood. Chennai Flood Help aggregates the contact information of the people affected by the flood, making it easier for them to be contacted by concerned relatives and relief organizations.
Congratulations to the December youth winners!
Goalie Go!
by Ursula Ott
Draw!
by George Shao
SechBot
by Sebastian Chahla
Calculator Quadratic
by Vitor Hugo Alvez
Goalie Go! was created by 15-year-old Ursula as a project for her programming class. She had never programmed before this year, but she is quickly discovering her love for coding!
Draw! is another great app from George Shao, an 11-year-old Canadian student. He wanted to challenge himself by building on all of the drawing apps that already existed, and he did a great job!
SechBot is an artificial intelligence app that responds to the user like a human would! It was created by Sebastian Chahla, a 14-year-old student from Argentina. Sebastian loves programming, technology, and artificial intelligence.
Vitor Hugo Alvez, a 15-year-old student from Brazil, created this app to help people solve quadratic equations. He likes to program in app inventor because it makes him happy!
Congratulations to the December adult winners!
Buurtpreventie
by Peter Mathijssen
Randy Detective
by Marco Danili
Krishh's Cookbook
by Vignaesh Ram Amarnath
NTCCG GP Practices
by Marc Rice
Buurtpreventie is an app that helps the neighborhood watch and allows people to alert the police of dangerous activity. It's creator, Peter Mathijssen from the Netherlands, is a member of the local neighborhood watch and wanted to create an app to help him and his colleagues.
Randy Detective is an engaging detective game where you have to figure out who committed a murder! This app was created by Marco Danili, an automation engineer from Germany.
Krishh's cookbook helps the user keep track of their recipes. It's creator, Vignaesh Ram Amarnath created this app as a gift for his fiancée!
This app, created by Marc Rice, is meant to help residents of North Tyneside, England connect with doctors and diagnose their symptoms.
---
Congratulations to the November youth winners!
MegaRadio
by Lukasz Marjanowski
Trick or Treat Counter
by Colin Bryson
Track Me
by Akshay Prajapatir
Animal Soundboard
by Sean
Lukasz Marjanowski, from the United Kingdom, created his MegaRadio app that plays a mix of radio stations. Its neat interface and ease of use made it an easy pick for Best Design!
Father and son team Owen and Colin Bryson worked together to create the Trick or Treat Counter App. It can used to keep track of how many pieces of candy you collect on Halloween and count how many houses you visited. You can even take a picture of your candy to share!
Akshay Prajapatir, 17, describes himself as a simple middle class Indian who believes in creating something different. His Track Me app is a safety app that tracks location, texts, takes pictures, and even calls the police to assist those who might be in danger.
Sean's inspiration for his Animal Soundboard was his niece. Sean, who is from the USA, decided her toy that she carried around was too big, so he made her a more convenient app.
Congratulations to the November adult winners!
EZBee Warranty Tracker
by Arnab Maitra
Trick or Treat Counter
by Owen and Colin Bryson
IPancreas EN
by Angelo Chelotti Duarte
RF Converter
by Martin Vigesaa
The free EZBee Warranty Tracker app allows you to record and track all your high value purchases and their warranties in one place. Arnab Maitra, an SAP Consultant from the USA, designed the app to share with friends and others who could benefit from it.
As seen above, Owen worked with his son Colin to create this awesome app for Halloween Trick or Treating. Owen sees App Inventor as a way for him and his son to spend some time together and to share his knowledge.
Angelo Chelotti Duarte, a medical student from Brazil, created iPancreas EN. This app is used to diagnosis, monitor and treat acute pancreatitis.
Martin Vigessa created RF Converter as a useful app for EMC technicians and engineers. An electrical technician himself, Martin decided to share his app with others. The app converts conducted and radio frequency units.
---
Congratulations to the October youth winners!
Locatera Parent
by Arjun Santhosh Kumar
Ultimate Ball
by Sagiv Lugasi
Stats Analyzer for NBA
by Gonzalo Arilla
Ultimate Calculator
by George Shao
Made by 15-year-old Arjun Santhosh Kumar from India, this app, allows parents to check on their children's bus routes. It's predecessor, EZ School Bus Locator, has already won awards from MIT and received national recognition in India.
Skyball is an app created by Sagiv Lugasi, a 13-years-old and lives in Israel! It contains five different ball games and allows users to save their high scores so they can compete against their friends!.
Stats Analyzer is an app for NBA enthusiasts that allows them to track the statistics of their favorite players. It was created by Gonzalo Arilla, a 17-year-old from Spain!
George Shao, an 11-year-old from Canada, created this app to help him with his math homework. Ultimate Calculator can calculate the volume of many 3D shapes, the area and perimeter of 2D shapes, as well as sines, cosines, and tangents.
Congratulations to the October adult winners!
Santuario Barro-CE
by Marcelo Mendes de Figueirêdo
Smart Mouth Numbers
by Chrisopher Warrior
BTcontrol
by Md. Khairul Alam
Bitki Bulmaca
by Erdi Ekren
KillerKat
by Barry Buehler
Santuârio Barro-CE was created by Marcelo Mendes de Figueirêdo from Brazil. This app aims to help users find the right prayers in church, and includes a beautifully-designed explanation of how to use a rosary.
Smart Mouth Numbers is an educational game that reads numbers aloud for learning. The App also displays numbers for the user to say and gives feedback. App Creator, Christopher Warrior, is an American teacher, who created this app to help people who were struggling with writing and reading numbers.
BT Control is a truly innovative app that allows the user to open doors with bluetooth and an Arduino! It was created by Md. Khairul Alam, a university lecturer from Bangladesh.
Erdi Ekren, from Turkey, created an app that allows people to learn about different types of plants. Erdi had no coding experience but still wanted to create an app for people who loved plants!
Barry Buehler, an American app creator, was inspired to re-make the "Space Invaders" game. He is 74 years young and recalls learning Fortran back in the day! His love of learning shows in his app creativity.
---
Congratulations to the September winners!
Freistoß Schießen
by Mael Picornell
Mole Mash - Saving CornField
by Edson Antônio
PasSaver
by Poon Kai Lun Kenneth and Chui Cho Yi
Calculator3D
by George Shao
Made by Mael Picornell, a 14 year old German student, Freistoß Schießen is a fun and challenging soccer game app with creative graphics.
Mole Mash - Saving CornField was built by Edson Antônio, a Brazilian tech professor who uses the game to teach about idioms, animals and "foodfields".
Designed by Poon Kai Lun Kenneth and Chui Cho Yi who are 16-year-old students from Hong Kong, PasSaver helps people manage all of their user IDs and passwords.
Designed by 11-year-old George Shao from Canada, Calculator3D calculates the volume of solids. He made the app to make his geometry homework more engaging.
---
Congratulations to the August youth winners!
TalkMe
by Jorge Vicente
Game of life
by Alessandro Maggio
Math Droid
by Peter Chacko
Catch!
by Yash Keswani
Made by Jorge Vicente, a 15-year-old student from Spain, TalkMe allows users to play sounds and input text that is recited back.
The Game of Life, built by Alessandro Maggio, an Italian teen, replicates cells in a natural environment based off British mathematician John Conway's cellular automaton algorithm.
Math Droid, designed by Peter Chacko, an American middle schooler, solves systems of equations and calculates solutions to a quadratic.
Designed by 13-year-old Yash Keswani from India, Catch! is a fast-paced game similar to Ping-Pong. Users can increase difficulty to create challenges
Congratulations to the August adult winners!
Flappy Bird
by Dason Rodrigues
Notepad
by Noel Zamora
Mercalli2
by Daniel Lara
Planets
by Jaison Arokiaraj
Made by Dason Rodrigues, a 21-year-old student from India with no prior coding experience, Flappy Bird was inspired by the original Flappy Bird game.
Notepad was created by Noel Zamora, a factory worker in Italy. He was inspired to create the app when he needed to write something down quickly but had no pen or paper!
Created by Daniel Lara, a seismic researcher from Guatemala, Mercalli2 crowdsources information on earthquakes. Users can input data on a tremor and the app records it along with their location.
Designed by Jaison Arokiaraj, an Indian IT manager, Planets enables users to learn about the solar system through personal data. Find out how much you would weigh on Mars!
---
Congratulations to the July winners!
Dictation4Kids
by Gabriele Piga
Isométrico
by Raul Corzo Suárez
Atfalocom Hrf El Aleef أطفالكم حرف الألف
by Nadira F. Mushtaha
Lectroid
by Rev. Abraham Sudeep Oommen
Cthulu Escape
by Marco
Dictation4Kids was created by an Italian surgeon to teach his 4 year old son new vocabulary. The app records new words for listeners to repeat, learn and write!
Isométrico, created by a Spanish teacher, shows how to draw an isometric object from the 3 views- front, top and side.
A Palestinian software builder created أطفالكم حرف الألف for 3-6 year old children who are deaf.
The Lectroid app shows scripture readings for all Sundays and special occasions. A very creative use of technology!
Cthulhu Escape is a game created with algorithms. Try to collect signs before the minions surround you!
---
Congratulations to the June winners!
Math Farm
by Ritchie Irizarry
MasterMind
by Carlos Hernández Sangabriel
Loops HD
by Andrea Zaffardi
Planets
by Muhammed Sabiq Sabry
Math Farm is an app that allows children to practice their math skills in a way that is educational and fun! This app was designed by and created by Ritchie Irizarry from Puerto Rico!
Carlos Hernández Sangabriel from Mexico used App Inventor to create his own implementation of MasterMind, a popular puzzle game where you have ten tries to break a secret code using different combinations of six colors.
Loops HD is a game where you have to arrange a series of pipes so they connect two endpoints. This game was created by Andrea Zaffardi from Italy!
Our Inventor of the Month is Muhammed Sabiq Sabry, a thirteen-year-old from Sri Lanka! Muhammad built Planets so that his sister, who loves apps, could have a new way to learn about science!
---
Congratulations to the May winners!
3 Apps In 1
by Oscar Medina
Wijnmaker
by Luc Volders
Secure Writing


by Giulio Broghammer

iTara
by Danny M
Three Apps In One is a wonderfully designed app that has a timer, a magic number generator, and a color game! It was created by Oscar Medina, an affiliate marketer from the United States.
With Wijnmaker, you can calculate the sugar, acid, and alcohol content of the wine you make! This app was created by Luc Volders from the Netherlands!
Secure Writing is an app that translates your messages into a secret code that only you and your friends understand. It was developed by Giulio Broghammer, a 17 year-old student from Germany!
Our Inventor of the Month is Danny M, a teen who built his own voice assistant, iTara! Tara can tell you the weather and the time, and she even knows the word of the day!
---
Congratulations to the April winners!
Gitar Akor Pro
by Turker Girgin
Quartet
by Arun Mehta
Rover 800 Remote
by Paul Clements
BYJS3
by Jesus Gil & Vincenta Albeldo
With Gitar Akor Pro, you can tune your guitar, play along to a metronome, look up chords to songs and so much more! This app was designed by Turker Girgin, a Turkish developer who is curious and loves to learn.
Quartet is a creative app that plays music and displays graphics depending on how the user moves. This app was created by Arun Mehta, who wanted to show his niece that math can be related to creative things such as dance and music.
Rover 800 Remote allows the user to control their car directly from their phone using Bluetooth and SMS. Paul Clemens from England is the clever inventor behind this innovative app.
Our Inventors of the Month are Vincenta Albeldo and Jesus Gil, the creators of BYJS3. Their app allows you to play with, feed, and bathe your very own pet!
---
Congratulations to the March winners!
Kids Chore Chart
by Jon Tigchelaar
Line-Dot Drawing
by Oscar Medina
Brain Accelerator
by Meghraj Singh
Rocket
by Lukas Baierl
Kids Chore Chart is an app that helps you and your children keep track of their daily chores. This app was developed by Jon Tigchelaar, who works at a recycling company in Illinois.
With Basic Line-Dot Drawing, you can unleash your inner artist and create virtual drawings of your own. This app was created by Oscar Medina, a web designer from Brazil!
Brain Accelerator is an app designed to exercise your brain with quick questions and puzzles. The creator behind this app is Meghraj Sing, a systems engineer from India.
Our inventor of the month is Lukas Baierl, a 15 year-old student from Germany! He created Rocket, a game where you play as a space ship trying to dodge asteroids!
---
Congratulations to the February winners!
Stopwatch & Timer
by Jari Pohjasmäki
Speak Now!
by Pavitra Golchha
ConstHelp
by Derek Drew
Milford 375
by Aaron Czarnecki
Using App Inventor, Jari Pohjasmäki from Finland was able to make a beautifully designed stopwatch and timer!
Speak Now! is an app that converts written text to speech. It was created by 14-year-old Pavitra Golcha from India so that people could learn how to correctly pronounce English words.
ConstHelp combines many of the tools needed by the construction industry into one app! This application was created by Derek Drew, who is a technology sales specialist in the construction industry.
Our inventors of the month are Aaron Czarnecki and Rachel Martinich, as well as their students, Zena Abulhab, Gabriel Martinez, and Mark Martino! They created Milford375 to commemorate the 375th anniversary of Milford, CT.
---
Congratulations to our January Winner!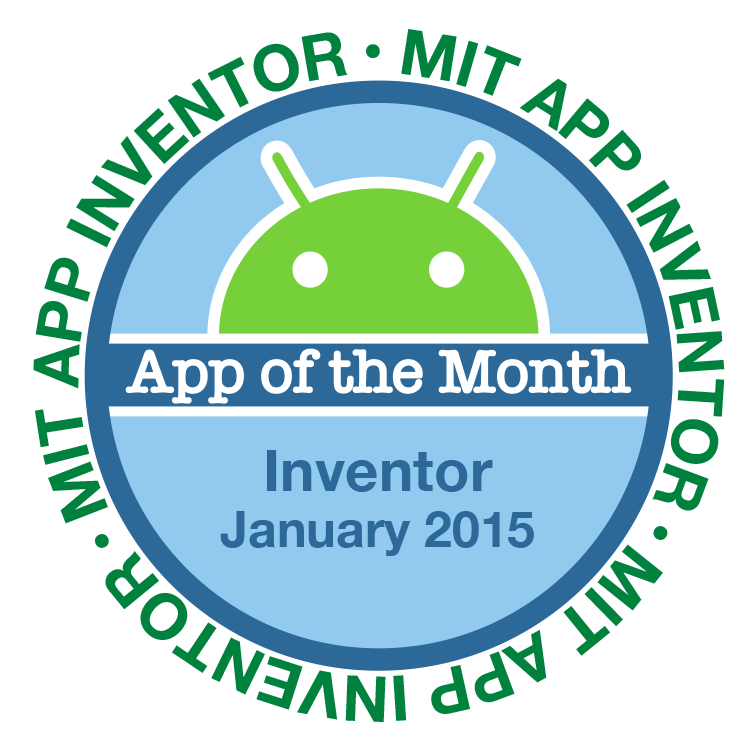 Stock Portfolio
by Andrew Fitzsimmons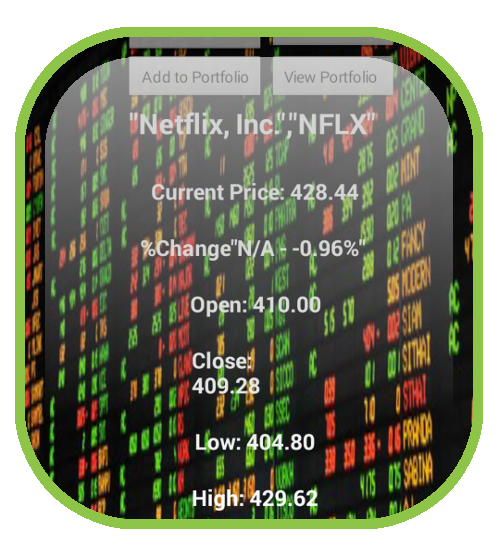 Our inventor of the month is Andrew Fitzsimmons! He's an 18-year-old high school student who built his own stock portfolio app to pursue his interest in investment!