2022 MIT Master Trainer in Educational Mobile Computing Virtual Online Course Information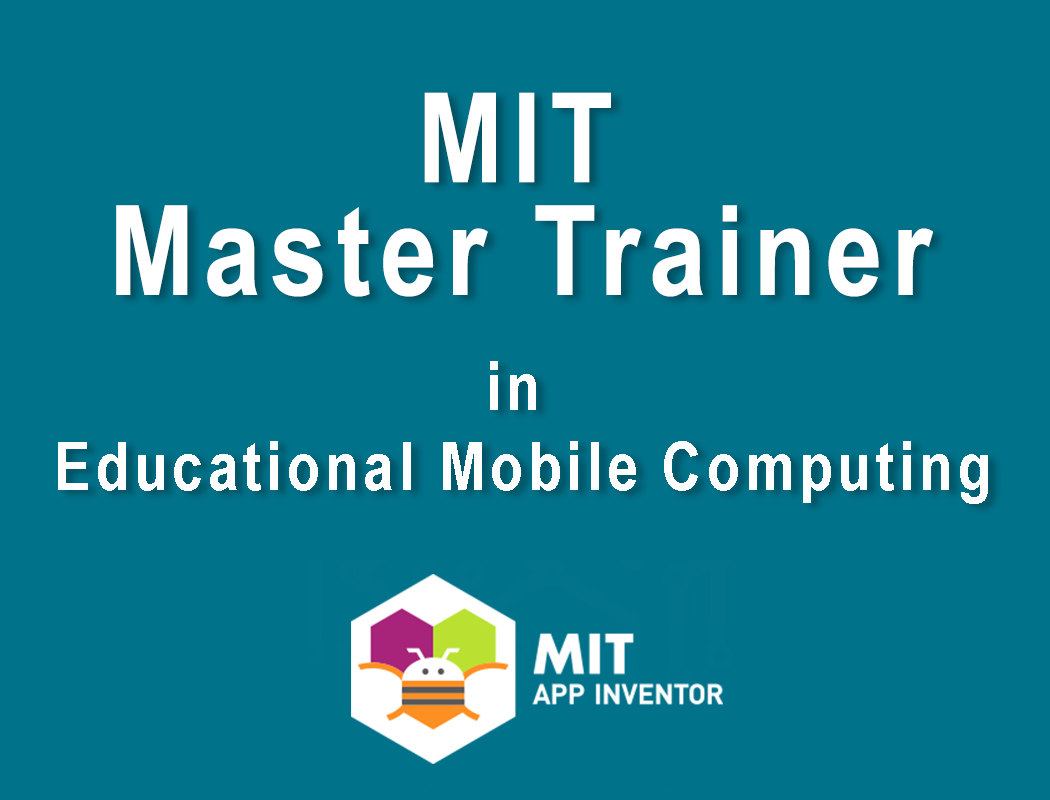 Course Summary
MIT will offer a Master Trainers Program to certify K-12 educators and other professionals in mobile computing education using the MIT App Inventor platform. This professional development program will continue to grow a global community of experts on mobile app development who are available to guide others through the exploration of creating mobile apps that matter. These experts will lead workshops in classrooms, communities, and afterschool programs to empower teachers and students as they become mobile app designers, thus providing a pathway into computer science, software development, and other disciplines relevant in today's digital world.
Benefits
MIT App Inventor Certified Master Trainers join an elite body of experts able to promote computer science education, conduct MIT App Inventor trainings to groups of educators and/or students and serve as a resource for educators and teachers who seek to infuse mobile computing education into their organizations, programs, and classrooms. Participants will receive an official MIT Certificate of Completion after successfully finishing the three-day virtual workshop. Their names will be added as Certified Master Trainers to the MIT App Inventor website.
Logistics:
Registration: Now closed for this year's program. Thank you for your interest.
Cost: $2,500
Maximum capacity: 25 people
Format: Virtual online
Program Prerequisites: Strong familiarity with MIT App Inventor -ideally, for at least one year in an educational K-12 setting.
Program Requirements
:
The Master Trainer Certificate candidates must:
Become intimately familiar with and complete 15 tutorials (at least three tutorials in each category) (to be completed by May 1st).
Complete the given readings, view the videos, and write weekly journal entries. (To be completed by May 1st)
Submit a final project: Develop an MIT App Inventor app (original or extension of an existing project) and create a tutorial for it (to be completed by June 15th).
Attend the three-day virtual capstone workshop which will include presentations of participants' final projects (Dates: July 27-29, 2022, TO BE CONFIRMED)
Be a judge in the virtual global Appathon 2022 in July. (TO BE CONFIRMED)
Additional details will be provided upon acceptance into the program.
Questions?
COVID-19 Update: MIT App Inventor fully expects to be able to run the MIT App Inventor Master Trainer's virtual online course over this spring and summer of 2022. In the unlikely event of our team having to cancel the course due to unforeseen pandemic-related issues, MIT App Inventor will strive to announce the cancellation at least two weeks prior to July 27th and process a refund at that time.
Background
MIT has been a leader in computing as an educational activity for K-12 students since the 1960's. That leadership began with the seminal work of Seymour Papert, whose work today is more influential than ever. The same research is assuming a major role in the emerging world of mobile computing, through MIT App Inventor, a top 40 most popular EdTech offering on the web today, according to LearnPlatform. App Inventor is a free, blocks-based visual programming language that enables everyone, even those with no prior coding experience, to create mobile apps for Android and iOS devices. Currently, over 10 million MIT App Inventor users from 195 countries have created over 43 million mobile apps with the easy-to-use web platform. Beyond teaching people to code and providing an on-ramp to computer science, MIT App Inventor users also learn a wealth of skills including: computational thinking, engineering design, and entrepreneurship.
Learning Objectives
Master Trainers will develop expertise in the following areas:
The App Inventor Mission and Mobile Computing Education
App Inventor Technical Set-up, Platform Navigation, Software Development & Trouble-Shooting
Computer Science Principles, Design Thinking, Computational Thinking, Computational Action
Pedagogy for Mobile App Development
Accessing resources, such as tutorials, forums, contests, and camps
Entrepreneurship opportunities (in app development and in professional training)
Who Should Attend
Teachers who have used Scratch and/or App Inventor in their classroom and want to expand upon their current level of engagement
Teachers seeking to integrate technology in their classroom (for CS or non-CS classes)
Graduate students or recent graduates who have a computer science background and are interested in teaching or EdTech
Former classroom teachers pursuing educational opportunities beyond the classroom
Club leaders who would like to infuse technology education into their after-school programs
Professors who want to teach mobile-app-creation in the college setting
Post-docs looking to supplement their knowledge for research projects
An ideal participant is someone with:
An aptitude or excitement for coding or computer science
Teaching experience and some knowledge of project-based-learning pedagogy
A passion for EdTech, computer science, and problem-solving
An interest in mobile computing education
Laptops and Android mobile devices are required for this program.