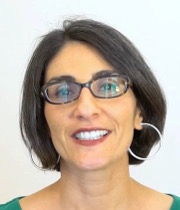 This is a guest blog by MIT Master Trainer Youmna Ovazza
I am writing to you from Paris to introduce Teen-Code to the international App Inventor community!
Teen-Code started back a little less than a year ago in Paris, France and aims at teaching teenagers (13 to 18 years old) how to code and create digital projects, through holiday workshops and weekly sessions. We are big App Inventor fans and are very happy to contribute to the App Inventor community from France!
We regularly publish short free video tutorials in French on our YouTube channel (17 videos to date), that could be useful to all French-speaking AI fans worldwide, and that you can check out below!
We have even created a course for beginners on the Udemy platform (not free however), should that be useful to anyone.
As the founder of Teen-Code, I am a MIT Master Trainer in Educational Mobile Computing program and spent 3 days at MIT in July as part of the program.
A few links to share:
* Teen-Code website: www.teen-code.com
* Teen-Code blog (with pictures illustrating workshops with App Inventor): http://teen-code.com/blog/ or http://teen-code.com/2017/02/11/stage-creation-dapplications-mobiles-fevrier-2017/
* YouTube channel (17 free tutorial videos in French): www.youtube.com/c/Teen-code
* Apps made by students: http://bit.ly/2o6iKBD
* Udemy course for beginners on Android using App Inventor: https://www.udemy.com/creation-applis-mobiles-debutants-android/