Verizon Innovative Learning App Challenge Winners Announced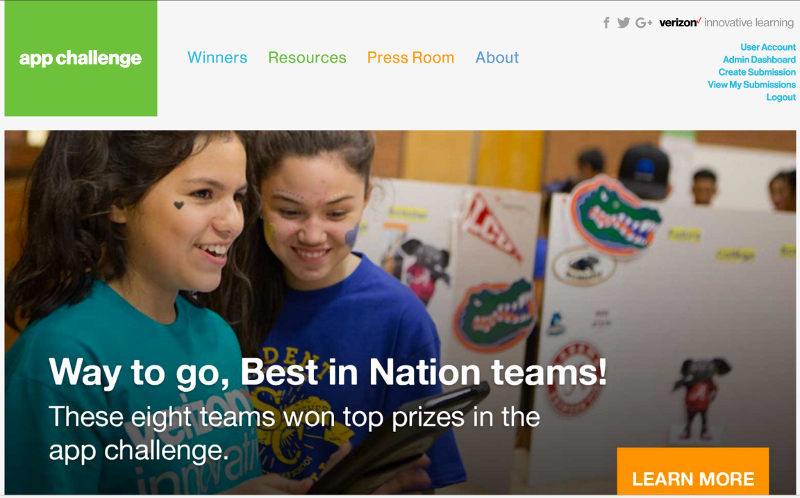 The Best in Nation winners of the Verizon Innovative Learning App Challenge where just announced. Eight teams from around the country were awarded $15,000 by Verizon Innovative Learning, in addition to the $5000 they were awarded as one of 100 Best in State teams. Each member of the winning Best in State teams also received a Verizon tablet. A ninth team, the Fan Favorite, also received Best in Nation status and the resulting prizes, by garnering the most votes in an online poll.
The Best in Nation award is intended to help the winning teams build a working mobile app from their design and to enhance STEM education at their school or nonprofit groups/clubs. In addition, each team will work with an MIT App Inventor trainer over the next 3 months to make their mobile app a reality. Each Best in Nation team will also travel to the national TSA (Technology Student Association) conference in Orlando in June to present their mobile apps.
Teams will have the support of an MIT App Inventor Master Trainer to help them go beyond the design phase to actually build the app and publish it on the Google Play Store. Trainers will travel to their respective teams for a two day on-site visit, where they will teach the students how to use App Inventor, guide them in the correct choice of available technologies, and assist them in the project management side of app building. Over the next three months, the trainer will continue to support their team via online meetings to ensure they can successfully complete their app. The beauty of using App Inventor for this challenge is that, very quickly, students are able to build a working app, even though many of the students have had little or no prior programming experience. Because of its drag-and-drop visual programming interface, non-programmers can easily pick up the necessary skills to make a fully functional app. The trainers can help students navigate more complex technical issues like map interfaces, web API's, and bluetooth communication.
The only direction that teams are given at the start of the challenge are that the apps should solve a problem in the community. The nine winning app designs address various issues and involve innovative ways to solve those issues through mobile computing. Many of problems that teams decided to address came as a result of first-hand experience of one or several of the team members.
A middle school team from Sharon, MA will develop their Empower app to help people with autism connect with caregivers and find jobs. The inspiration for the app was team member's brother, who has autism, and who would benefit from this app. The app will also connect volunteers with opportunities to help out people with autism.
In-Reach, an app idea from a North Pole Middle School team in Alaska, aims to help those suffering with PTSD to track their triggers and to connect users with specialists. A forum for communicating with others who suffer from PTSD will be another app feature. This app idea was also spawned by a personal connection. A team member's father is a military veteran who suffers from PTSD.
Another winning middle school team from Capital Day School in Frankfort, Kentucky hopes to tackle the problem of wasted food, with their app, Waste Free America. The app will connect grocery stores and restaurants with homeless shelters, alerting them when they have food they are going to dispose of, and make it available for pickup.
Students from Meeteetse Junior High in Wisconsin hope to connect hobby farmers and small farms who want to sell their produce directly to consumers. Their app, Farmersbook, was inspired by the fact the students live in a "food desert", where they have to travel 30 minutes to buy groceries. By connecting consumers to local farmers and gardeners, they are making healthy produce available on a local level.
The idea for the See Something, Say Something app came about from the very personal experience of the Taos STEAM Academy team in New Mexico. They lost four friends in the past year to teen suicide. The app will provide real-time crisis intervention along with community and social engagement. These students want to empower teens and the community to help prevent suicides with their app.
The Girls Who Code Club at Greenwich High School in Connecticut, has designed the Under My Wing app, to provide a comprehensive personal safety app for girls. Being an all-girl team, this issue stood out for them. The app will provide quick communication features to contact family and police in an unsafe situation, along with self-defense videos made by a team member who is a black belt!
Take Me There is yet another app that was inspired by personal experience. The app, designed by the Tesla STEM Academy team from Redmond, Washington, will assist people with disabilities to find viable transportation options and directions. A team member who volunteered at Little Bit Therapeutic Riding Center met people with disabilities for whom this app could really help. The app, based on the user's disability, gives the user different transportation routes such as walking, Uber, and bus by interacting with online information and maps.
Another Girls Who Code team, from Mountain View, California, designed another personal safety app. The Soteria app uses crime information from the local police department to create a safe navigation route for pedestrians. It also includes a Twitter feed from the police to keep users up-to-date with possible unsafe conditions.
The Fan Favorite, a team from De Pere Middle School in Wyoming, created an anti-bullying app, Pass It On, that "puts the power back in the hands of the kids". In addition to allowing users to report bullying incidents to school staff, the app also promotes reporting of good deeds that can result in e-cash that can be used in the school store.
All of these apps tackle serious issues that are founded on personal experiences and/or connections. The students' desire to make an app to help others and have an impact on their community and the world is truly inspirational. With the help and support of Verizon Innovative Learning, the Technology Student Association, and MIT, these young people will be able to see their ideas come to fruition, and hopefully be inspired to continue to create and build things with social impact.