UNESCO YouthMobile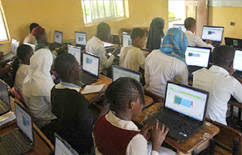 The UNESCO YouthMobile Initiative has launched the 1st of a series of training workshops of young students in mobile apps programming in Abuja, Nigeria. The training program was based on the beginner and intermediate levels of the App Inventor curriculum from the well acclaimed Massachusetts Institute of Technology (MIT, USA).
Samsung Electronics supported by donating laptops used during the training. Some of the Apps that were developed and demonstrated by the students for education including literacy or sustainable development include:
· Know your Country
· Hydrating Education
· English Pro
· Learn Alphabets
· Other Apps include Calc Plus, Safety App, Web Locator, My Career Guide, My Review, Musical App, Story Telling App and Health Tips.
The second segment of the YouthMobile training is has been planned to hold at the Samsung/UNESCO Digital Village in Oban Town, Cross River State in partnership with Team Charis Nigeria, made up of a group of girls from Calabar, Cross River State in Nigeria. Team Charis won the High School Division of the UNESCO-supported 2015 Technovation Global Challenge in San Francisco, America with their app "Discardious," a mobile solution to the problem of improper waste disposal in Nigeria.