App of the Month Winners 2015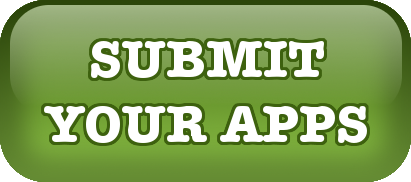 Congratulations to the December youth winners!
Goalie Go!
by Ursula Ott
Draw!
by George Shao
SechBot
by Sebastian Chahla
Calculator Quadratic
by Vitor Hugo Alvez
Goalie Go! was created by 15-year-old Ursula as a project for her programming class. She had never programmed before this year, but she is quickly discovering her love for coding!
Draw! is another great app from George Shao, an 11-year-old Canadian student. He wanted to challenge himself by building on all of the drawing apps that already existed, and he did a great job!
SechBot is an artificial intelligence app that responds to the user like a human would! It was created by Sebastian Chahla, a 14-year-old student from Argentina. Sebastian loves programming, technology, and artificial intelligence.
Vitor Hugo Alvez, a 15-year-old student from Brazil, created this app to help people solve quadratic equations. He likes to program in app inventor because it makes him happy!
Congratulations to the December adult winners!
Buurtpreventie
by Peter Mathijssen
Randy Detective
by Marco Danili
Krishh's Cookbook
by Vignaesh Ram Amarnath
NTCCG GP Practices
by Marc Rice
Buurtpreventie is an app that helps the neighborhood watch and allows people to alert the police of dangerous activity. It's creator, Peter Mathijssen from the Netherlands, is a member of the local neighborhood watch and wanted to create an app to help him and his colleagues.
Randy Detective is an engaging detective game where you have to figure out who committed a murder! This app was created by Marco Danili, an automation engineer from Germany.
Krishh's cookbook helps the user keep track of their recipes. It's creator, Vignaesh Ram Amarnath created this app as a gift for his fiancée!
This app, created by Marc Rice, is meant to help residents of North Tyneside, England connect with doctors and diagnose their symptoms.
---
Congratulations to the November youth winners!
MegaRadio
by Lukasz Marjanowski
Trick or Treat Counter
by Colin Bryson
Track Me
by Akshay Prajapatir
Animal Soundboard
by Sean
Lukasz Marjanowski, from the United Kingdom, created his MegaRadio app that plays a mix of radio stations. Its neat interface and ease of use made it an easy pick for Best Design!
Father and son team Owen and Colin Bryson worked together to create the Trick or Treat Counter App. It can used to keep track of how many pieces of candy you collect on Halloween and count how many houses you visited. You can even take a picture of your candy to share!
Akshay Prajapatir, 17, describes himself as a simple middle class Indian who believes in creating something different. His Track Me app is a safety app that tracks location, texts, takes pictures, and even calls the police to assist those who might be in danger.
Sean's inspiration for his Animal Soundboard was his niece. Sean, who is from the USA, decided her toy that she carried around was too big, so he made her a more convenient app.
Congratulations to the November adult winners!
EZBee Warranty Tracker
by Arnab Maitra
Trick or Treat Counter
by Owen and Colin Bryson
IPancreas EN
by Angelo Chelotti Duarte
RF Converter
by Martin Vigesaa
The free EZBee Warranty Tracker app allows you to record and track all your high value purchases and their warranties in one place. Arnab Maitra, an SAP Consultant from the USA, designed the app to share with friends and others who could benefit from it.
As seen above, Owen worked with his son Colin to create this awesome app for Halloween Trick or Treating. Owen sees App Inventor as a way for him and his son to spend some time together and to share his knowledge.
Angelo Chelotti Duarte, a medical student from Brazil, created iPancreas EN. This app is used to diagnosis, monitor and treat acute pancreatitis.
Martin Vigessa created RF Converter as a useful app for EMC technicians and engineers. An electrical technician himself, Martin decided to share his app with others. The app converts conducted and radio frequency units.
---
Congratulations to the October youth winners!
Locatera Parent
by Arjun Santhosh Kumar
Ultimate Ball
by Sagiv Lugasi
Stats Analyzer for NBA
by Gonzalo Arilla
Ultimate Calculator
by George Shao
Made by 15-year-old Arjun Santhosh Kumar from India, this app, allows parents to check on their children's bus routes. It's predecessor, EZ School Bus Locator, has already won awards from MIT and received national recognition in India.
Skyball is an app created by Sagiv Lugasi, a 13-years-old and lives in Israel! It contains five different ball games and allows users to save their high scores so they can compete against their friends!.
Stats Analyzer is an app for NBA enthusiasts that allows them to track the statistics of their favorite players. It was created by Gonzalo Arilla, a 17-year-old from Spain!
George Shao, an 11-year-old from Canada, created this app to help him with his math homework. Ultimate Calculator can calculate the volume of many 3D shapes, the area and perimeter of 2D shapes, as well as sines, cosines, and tangents.
Congratulations to the October adult winners!
Santuario Barro-CE
by Marcelo Mendes de Figueirêdo
Smart Mouth Numbers
by Chrisopher Warrior
BTcontrol
by Md. Khairul Alam
Bitki Bulmaca
by Erdi Ekren
KillerKat
by Barry Buehler
Santuârio Barro-CE was created by Marcelo Mendes de Figueirêdo from Brazil. This app aims to help users find the right prayers in church, and includes a beautifully-designed explanation of how to use a rosary.
Smart Mouth Numbers is an educational game that reads numbers aloud for learning. The App also displays numbers for the user to say and gives feedback. App Creator, Christopher Warrior, is an American teacher, who created this app to help people who were struggling with writing and reading numbers.
BT Control is a truly innovative app that allows the user to open doors with bluetooth and an Arduino! It was created by Md. Khairul Alam, a university lecturer from Bangladesh.
Erdi Ekren, from Turkey, created an app that allows people to learn about different types of plants. Erdi had no coding experience but still wanted to create an app for people who loved plants!
Barry Buehler, an American app creator, was inspired to re-make the "Space Invaders" game. He is 74 years young and recalls learning Fortran back in the day! His love of learning shows in his app creativity.
---
Congratulations to the September winners!
Freistoß Schießen
by Mael Picornell
Mole Mash - Saving CornField
by Edson Antônio
PasSaver
by Poon Kai Lun Kenneth and Chui Cho Yi
Calculator3D
by George Shao
Made by Mael Picornell, a 14 year old German student, Freistoß Schießen is a fun and challenging soccer game app with creative graphics.
Mole Mash - Saving CornField was built by Edson Antônio, a Brazilian tech professor who uses the game to teach about idioms, animals and "foodfields".
Designed by Poon Kai Lun Kenneth and Chui Cho Yi who are 16-year-old students from Hong Kong, PasSaver helps people manage all of their user IDs and passwords.
Designed by 11-year-old George Shao from Canada, Calculator3D calculates the volume of solids. He made the app to make his geometry homework more engaging.
---
Congratulations to the August youth winners!
TalkMe
by Jorge Vicente
Game of life
by Alessandro Maggio
Math Droid
by Peter Chacko
Catch!
by Yash Keswani
Made by Jorge Vicente, a 15-year-old student from Spain, TalkMe allows users to play sounds and input text that is recited back.
The Game of Life, built by Alessandro Maggio, an Italian teen, replicates cells in a natural environment based off British mathematician John Conway's cellular automaton algorithm.
Math Droid, designed by Peter Chacko, an American middle schooler, solves systems of equations and calculates solutions to a quadratic.
Designed by 13-year-old Yash Keswani from India, Catch! is a fast-paced game similar to Ping-Pong. Users can increase difficulty to create challenges
Congratulations to the August adult winners!
Flappy Bird
by Dason Rodrigues
Notepad
by Noel Zamora
Mercalli2
by Daniel Lara
Planets
by Jaison Arokiaraj
Made by Dason Rodrigues, a 21-year-old student from India with no prior coding experience, Flappy Bird was inspired by the original Flappy Bird game.
Notepad was created by Noel Zamora, a factory worker in Italy. He was inspired to create the app when he needed to write something down quickly but had no pen or paper!
Created by Daniel Lara, a seismic researcher from Guatemala, Mercalli2 crowdsources information on earthquakes. Users can input data on a tremor and the app records it along with their location.
Designed by Jaison Arokiaraj, an Indian IT manager, Planets enables users to learn about the solar system through personal data. Find out how much you would weigh on Mars!
---
Congratulations to the July winners!
Dictation4Kids
by Gabriele Piga
Isométrico
by Raul Corzo Suárez
Atfalocom Hrf El Aleef أطفالكم حرف الألف
by Nadira F. Mushtaha
Lectroid
by Rev. Abraham Sudeep Oommen
Cthulu Escape
by Marco
Dictation4Kids was created by an Italian surgeon to teach his 4 year old son new vocabulary. The app records new words for listeners to repeat, learn and write!
Isométrico, created by a Spanish teacher, shows how to draw an isometric object from the 3 views- front, top and side.
A Palestinian software builder created أطفالكم حرف الألف for 3-6 year old children who are deaf.
The Lectroid app shows scripture readings for all Sundays and special occasions. A very creative use of technology!
Cthulhu Escape is a game created with algorithms. Try to collect signs before the minions surround you!
---
Congratulations to the June winners!
Math Farm
by Ritchie Irizarry
MasterMind
by Carlos Hernández Sangabriel
Loops HD
by Andrea Zaffardi
Planets
by Muhammed Sabiq Sabry
Math Farm is an app that allows children to practice their math skills in a way that is educational and fun! This app was designed by and created by Ritchie Irizarry from Puerto Rico!
Carlos Hernández Sangabriel from Mexico used App Inventor to create his own implementation of MasterMind, a popular puzzle game where you have ten tries to break a secret code using different combinations of six colors.
Loops HD is a game where you have to arrange a series of pipes so they connect two endpoints. This game was created by Andrea Zaffardi from Italy!
Our Inventor of the Month is Muhammed Sabiq Sabry, a thirteen-year-old from Sri Lanka! Muhammad built Planets so that his sister, who loves apps, could have a new way to learn about science!
---
Congratulations to the May winners!
3 Apps In 1
by Oscar Medina
Wijnmaker
by Luc Volders
Secure Writing


by Giulio Broghammer

iTara
by Danny M
Three Apps In One is a wonderfully designed app that has a timer, a magic number generator, and a color game! It was created by Oscar Medina, an affiliate marketer from the United States.
With Wijnmaker, you can calculate the sugar, acid, and alcohol content of the wine you make! This app was created by Luc Volders from the Netherlands!
Secure Writing is an app that translates your messages into a secret code that only you and your friends understand. It was developed by Giulio Broghammer, a 17 year-old student from Germany!
Our Inventor of the Month is Danny M, a teen who built his own voice assistant, iTara! Tara can tell you the weather and the time, and she even knows the word of the day!
---
Congratulations to the April winners!
Gitar Akor Pro
by Turker Girgin
Quartet
by Arun Mehta
Rover 800 Remote
by Paul Clements
BYJS3
by Jesus Gil & Vincenta Albeldo
With Gitar Akor Pro, you can tune your guitar, play along to a metronome, look up chords to songs and so much more! This app was designed by Turker Girgin, a Turkish developer who is curious and loves to learn.
Quartet is a creative app that plays music and displays graphics depending on how the user moves. This app was created by Arun Mehta, who wanted to show his niece that math can be related to creative things such as dance and music.
Rover 800 Remote allows the user to control their car directly from their phone using Bluetooth and SMS. Paul Clemens from England is the clever inventor behind this innovative app.
Our Inventors of the Month are Vincenta Albeldo and Jesus Gil, the creators of BYJS3. Their app allows you to play with, feed, and bathe your very own pet!
---
Congratulations to the March winners!
Kids Chore Chart
by Jon Tigchelaar
Line-Dot Drawing
by Oscar Medina
Brain Accelerator
by Meghraj Singh
Rocket
by Lukas Baierl
Kids Chore Chart is an app that helps you and your children keep track of their daily chores. This app was developed by Jon Tigchelaar, who works at a recycling company in Illinois.
With Basic Line-Dot Drawing, you can unleash your inner artist and create virtual drawings of your own. This app was created by Oscar Medina, a web designer from Brazil!
Brain Accelerator is an app designed to exercise your brain with quick questions and puzzles. The creator behind this app is Meghraj Sing, a systems engineer from India.
Our inventor of the month is Lukas Baierl, a 15 year-old student from Germany! He created Rocket, a game where you play as a space ship trying to dodge asteroids!
---
Congratulations to the February winners!
Stopwatch & Timer
by Jari Pohjasmäki
Speak Now!
by Pavitra Golchha
ConstHelp
by Derek Drew
Milford 375
by Aaron Czarnecki
Using App Inventor, Jari Pohjasmäki from Finland was able to make a beautifully designed stopwatch and timer!
Speak Now! is an app that converts written text to speech. It was created by 14-year-old Pavitra Golcha from India so that people could learn how to correctly pronounce English words.
ConstHelp combines many of the tools needed by the construction industry into one app! This application was created by Derek Drew, who is a technology sales specialist in the construction industry.
Our inventors of the month are Aaron Czarnecki and Rachel Martinich, as well as their students, Zena Abulhab, Gabriel Martinez, and Mark Martino! They created Milford375 to commemorate the 375th anniversary of Milford, CT.
---
Congratulations to our January Winner!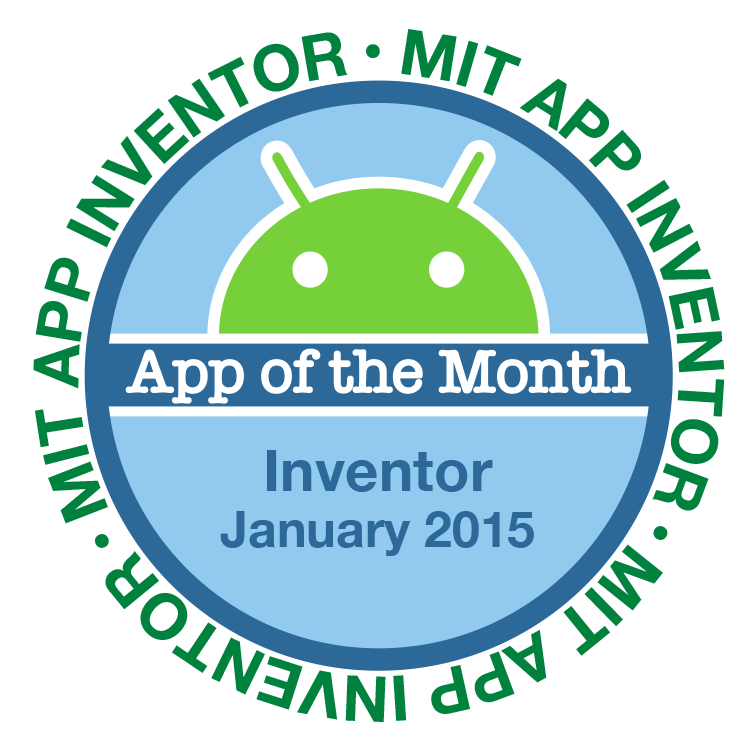 Stock Portfolio
by Andrew Fitzsimmons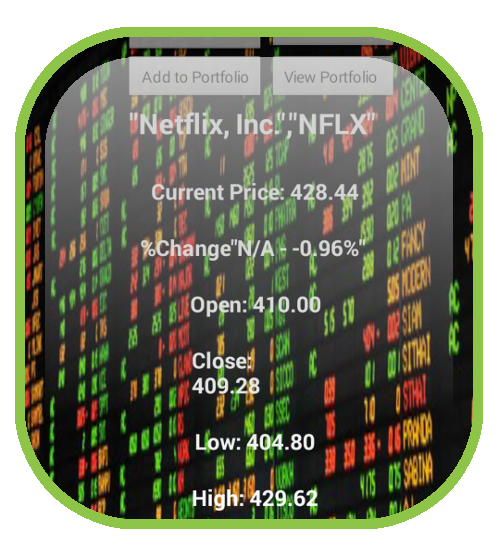 Our inventor of the month is Andrew Fitzsimmons! He's an 18-year-old high school student who built his own stock portfolio app to pursue his interest in investment!